Balyasny Asset Management Takes Expansion Space at 950 Third Avenue
---
---
Balyasny Asset Management, a hedge fund founded by Dmitry Balyasny, has taken extra office space at 950 Third Avenue, The Commercial Observer has learned.
The company will occupy a 7,700 square foot space on a portion of the fifth floor in the 32-story office tower.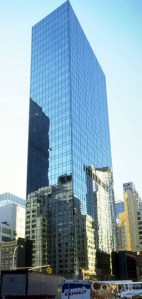 Asking rent for the 7-year lease was in the high-$50s-a-square-foot. Mikael Nahmias and Jared Horowitz represented Naomi and Andre Althoz, the landlords of 950 Third Avenue who bought the 356,020 square foot building for $74.4 million in 2010.
Erik Schmall and Scott Weiss of Studley represented Balyasny Asset Management in the deal.
Balyasny Asset Management will be keeping its offices at 135 East 57th Street, where it leases 26,300 square feet of space on the 26th and 27th floors, according to CoStar data. That lease is not set to expire until 2016, according to CoStar data.
950 Third Avenue's proximity to its NYC headquarters–the two buildings are a block away from one another–appealed to the hedge fund, said Mr. Schmall.
"They wanted something that felt right. It's a nimble hedge fund," Mr. Schmall added.
The Cushman & Wakefield duo of Nahmias and Horowitz embarked on a pre-built program three months ago for a number of smaller units at 950 Third Avenue that were set to hit the market.
The pre-builts offer full-height glass partitions and high end appliances for the pantry rooms, giving prospective tenants the option of moving into the building "with relative ease," said Mr. Nahmias.
The landlords will be modifying the pre-built space Balyasny Asset Management will be moving into.
"It was a quality, good-looking pre-built," said Mr. Schmall. "It had a nice reception area, it was tastefully done, and it suited Balyasny's needs."
drosen@observer.com