The Moinian Group Nabs Gem of a Tenant for 535 Fifth Avenue
---
---
On the heels of last week's 7,300-square-foot Media3 lease at the building, The Commercial Observer has learned that Sandeep Diamond Corp. has signed on for the same amount of space at The Moinian Group's 535 Fifth Avenue.
Cushman & Wakefield's Andrew Sachs and Ben Shapiro represented the landlord, along with colleagues from the firm's Strategic Agency Services Group. The team is also exclusive leasing agent at 545 Fifth Avenue, a neighboring Moinian Group building. Michael Rudder and Michael Heller from the Rudder Property Group represented the tenant.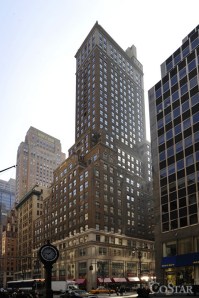 Mr. Sachs told The Commercial Observer that he thought Sandeep Diamond, which previously leased space at 20 East 46th Street, was drawn to the building thanks to several factors.
"Sandeep Diamond was really drawn to 535 Fifth for a few reasons," Mr. Sachs said. "One, obviously, was its proximity to his customer base, which is largely in the jewelry district. We're on 44th Street so it is 47th Street where his customer base is."
The company was also drawn to the 343,000-square-foot building, he added, due to its proximity to Grand Central and the 13th floor's lure of full-floor tenancy.
"It's a great option for him," Mr. Sachs said of the full-floor status. "I think that the floor also has a tremendous amount of natural light, which is important not only for his employees but given the work that they do up there. The combination of location and full-floor identity were really critical to his decision making process."
Asking rent for the space was $56 a square foot. Mr. Sachs wasn't sure about the current vacancy rate but said that his team is currently focused on leasing up two blocks of 13,000 square feet and one of 19,000 square feet in the building.
cgaines@observer.com
20 East 46th Street
,
535 Fifth Avenue
,
545 Fifth Avenue
,
Andrew Sachs
,
Ben Shapiro
,
Cushman & Wakefield
,
Media3
,
Michael Heller
,
Michael Rudder
,
Rudder Property Group
,
The Moinian Group