Manny Malekan Makes Manhattan Return Buying Five Buildings
---
---
Real estate investor Manny Malekan is in contract to purchase five buildings being sold by the Gindi family, owners of the popular Century 21 department store chain, who are in the process of selling off a portfolio of New York City real estate assets.
Mr. Malekan will acquire 20 John Street, 8-10 Liberty Street, 20 Beaver Street, and both 53 and 122 Nassau Street for an undisclosed sum. All of the properties are located in Lower Manhattan and have ground-floor retail space and rental apartments above.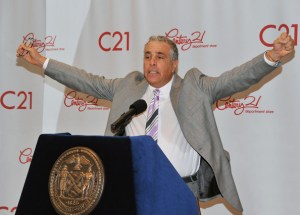 Mr. Malekan, whose real estate company is called the Malachite Group, told The Commercial Observer that the acquisition will allow him to break back into the Manhattan market. In the late 1980s, Mr. Malekan amassed a collection of around 2,000 apartment units in the city, he said, but sold the portfolio off by the early 1990s and invested elsewhere, including Texas, where he owns several retail properties.
Helping spur the recent acquisitions were Mr. Malekan's children, who have joined their father at his real estate company and who he says will be active in managing the buildings.
"I am trying to get them to be more local," said Mr. Malekan, whose offices are based in Mineola, on Long Island.
The buildings are fully leased, and Mr. Malekan said he would seek to generate returns by eventually selling air rights attached to the properties.
The five properties are among a collection of almost 30 buildings located mostly in Manhattan and Queens that are being sold by the Gindi family. Earlier this year, the group hired Bob Knakal, chairman of the brokerage company Massey Knakal, to handle the disposition. In a prior conversation with The CO, Mr. Knakal estimated the portfolio would trade for over $200 million.
Mr. Knakal could not be reached for comment on the sale.
Mr. Malekan said he may bid on other buildings in the portfolio. Only a handful of properties have been sold so far. Earlier this month, 360 Broadway was acquired by Waterbridge Capital for around $22 million.
"This is just a warm-up," Mr. Malekan said. "We're starting a relationship with them."
It may take up to six months for the deal to close, a window of time reserved by the Gindis because the family wants to pour the proceeds from the sale potentially into another real estate asset acquisition through a 1031 exchange that would allow them to avoid having to pay capital gains taxes.