Collection 18 Takes 32K S/F at 1370 Broadway
---
---
Fashion tenant Collection 18 has signed a lease for the top two floors at the office building 1370 Broadway, 16 and 17, which total about 32,000 square feet.
Asking rents for the space were in the $50s per square foot.
The deal came about after some nifty shuffling by the building's leasing agents, a CBRE team led by Paul Amrich, Neil King and Mike Movshovich.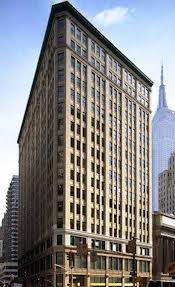 The apparel company Esprit had previously occupied the space but needed to downsize. Mr. Amrich, who earlier this year became CBRE's youngest broker to achieve the lofty leasing executive title of vice chairman, and his group arranged to have the company pay a termination fee to exit the space and consolidate into 6,000 square feet on the 14th floor.
While they were working out that deal, Mr. Amrich and his team arrranged for Collection 18 to lease Espirit's former space and for another company Brainerd Communicators, a communications and media relations firm, to take about 7,000 square feet on the 14th floor as well.
Now, only months after taking over as leasing agent for the 240,000-square-foot building, which was bought last year by Normandy Partners, Mr. Amrich and his team have brought the property to near full occuancy with only the seventh and 15th floors, each about 16,000 square feet, available.
"Tech, media and creative tenants are all very active right now," Mr. Amrich said.
The building has been a beneficiary of the tight Midtown South market, Mr. Amrich said, which has pushed tenants to look north of Herald Square, an area that is considered the juncture between the neighborhood and Midtown proper.
"A lot of media and tech companies are moving north from Midtown South and crossing the bowtie of Herald Square," Mr. Amrich said. "1370 Broadway is on 36th street so it isn't far."