Rose Associates Out, CW Financial Subsidiary In, at Stuyvestant Town
---
---
Rose Associates has been ousted as the property managers of the controversial Stuyvesant Town and Peter Cooper Village complex, according to reports.
CW Capital Asset Management, a subsidiary of CW Financial which took over the complex in 2010, has tapped CompassRock Real Estate, also a subsidiary of CW Financial, as its new property manger, effective September 1, 2012.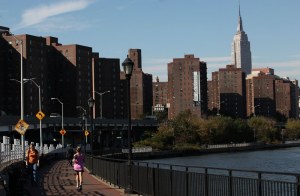 In doing so, CW Capital expects to reduce its management fee by 33 percent, and have a bigger hand in the leasing and marketing of the Stuyvesant Town and Peter Cooper Village developments, the company said in a press release.
"Since taking control, we have realized significantly improved financial performance and at the same time improved the resident experience," said Charles Spetka, CEO of CW Financial Services in a statement. "Our intent is to continue both trends."
Rose Associates, headed by Adam Rose, had been managing the property since 2010.
He declined through his assistant to respond to an email and telephone call requesting commenting, citing contractual obligations.
Stuyvesant Town and Peter Cooper Village residents were notified of the change earlier this week.
"Members of our community are wary about the change," City Council member Daniel Garodnick, a resident of the complex, told Crain's New York.
Residents of the complex have seen a slew of activity and changes since it was purchased by a joint venture of BlackRock and Tishman Speyer for $5.4 billion in 2006. The then-owners had planned to
convert the apartments into market-rate units. Residents argued, successfully, that their rents could not be altered until after the J-51 benefits at the complex expired in 2017. The tenants were eventually rewarded $215 million in rent rebates.
CW Capital Asset Management took over the property from Tishman Speyer and own mortgages on the property in excess of $3 billion.
drosen@observer.com