Warby Parker Inks First Brick-And-Mortar Lease
---
---
Eyeglass maker Warby Parker has signed a lease for its first permanent retail location, taking about 2,500 square feet at 121 Greene Street in Soho.
Warby Parker rose to prominence successfully selling prescription eyeglasses online, a product many shoppers had preferred to buy in person even well into the age of Internet commerce.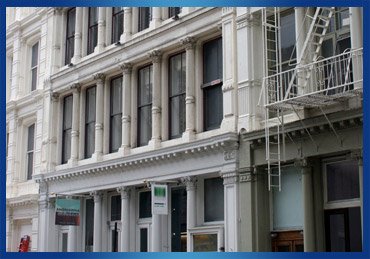 The deal would appear to be a small step into the multi-pronged selling approach many retailers are taking today, in which stores couple their web selling platforms with a physical presence and vice versa.
"Warby Parker has a very cool website but many retailers that are successful on the web ultimately have a brick and mortar store," said Joanne Podell, a senior retail leasing executive at Cushman & Wakefield (CWK) who represented Warby Parker along with colleagues Matthew Siegel and Brandon Singer.
The store will also be a way for the company to publicize its brand.
"A big goal of Warby Parker was to differentiate themselves, it's an extension of what they've been doing in the eyeware industry," Mr. Siegel said.
The store will be larger than a typical eyewear shop and is in the heart of one of the city's busiest retail neighborhoods, near other hip retailers such as Paul Smith, Apple (AAPL) and Ralph Lauren.
"They wanted to find a location and a size where they could they could fully express their brand, this is not going to be just another eyeglasses store," Mr. Siegel said. "It was a lengthy search in Soho and this is what they were looking for, the right location with the right co-tenancies."
Neither Ms. Podell nor Mr. Siegel would disclose what rent Warby Parker will pay, but average rates in Soho are in the $200s per square foot for ground floor space. Warby's deal may have been even pricier.
"It's a really tough market to penetrate for high quality space in this size range," Mr. Siegel said, noting that he and the company had searched for the space for a year before reaching a deal at 121 Greene Street.