A Metric Mind: With Data Analysis the Norm, Winick Realty Looks to Kenneth Hochhauser for the "Secret Sauce"
---
---
Years before Chipotle Mexican Grill became a calorie-packed part of Midtown's daily diet, the burrito maker was mapping a path into the New York City marketplace.
In 2002, after launching in Washington D.C. and other suburban markets, Chipotle turned to Kenneth Hochhauser and Jeffrey Roseman, who subsequently turned to internal data accumulated by the former Newmark Knight Frank to determine an ideal location for Chipotle's flagship store in New York City.
"They understood their business model, in that the bulk of their business came during lunch, so we focused on where the heaviest lunch concentration would have been," recalled Mr. Hochhauser.
Now an executive vice president with the Winick Realty Group, Mr. Hochhauser, 45, recalled his days at Newmark Knight Frank pairing data with Chipotle's own statistical analysis to determine where best to expand the brand. And considering his knowledge of Geographic Information Systems—a complicated theory used to better understand patterns and trends—Mr. Hochhauser found what he was looking for.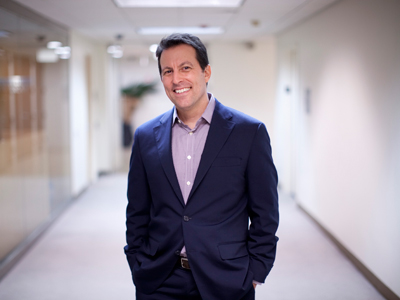 "What had been the key to our success is matching that output with the domain knowledge that we have of Manhattan, and making sure that, yes, this is the right trade area, but making sure we were on the right street in that trade area," said Mr. Hochhauser, who in his early days served as  an economic development officer for the City of New York.
They eventually settled on 150 East 44th Street, just east of Times Square. With its proximity to Grand Central—and to the law firms, media companies and financial firms that call the area its work home—the flagship store proved to be a hit when it opened in 2003.
While the data Mr. Hochhauser and executives at Chipotle used to settle on the flagship location was effective, neither he nor the restaurant chain could even begin to predict its popularity in New York City.
"No one knew how well it would be received in the marketplace—at least, we didn't," Mr. Hochhauser said. "Their success is all them."
Modesty aside, both he and Mr. Roseman's involvement with the chain—they represented Chipotle from 2002 until Mr. Hochhauser's departure from the newly renamed Newmark Grubb Knight Frank in May—helped Chipotle become a burrito bastion in all five boroughs and the neighboring suburbs, with more than 40 locations across the region.
"We've been able to take the account and grow geographically, which has been great," Mr. Hochhauser said.
Helping that growth has been data, all sorts of data, from taxi drop-off and pick-up points to the average spending power of the Midtown office worker.
"It's not just the data—the household data, the psycho-demographics—but it's also your economic generators," he said.
Using such data helps to eventually determine the buying power in a certain area, while also helping a retailer more accurately predict its gross revenue.
"That is the problem of Midtown Manhattan," said Mr. Hochhauser, which he estimates can see upwards of a million pedestrians in a given weekday.
"That money is uncounted," he added. "For us to fully understand the amount of buying power into a trade area, we delved deeper into trying to understand how much money is in a central business district, and how they are spending it."
"That's the secret sauce," Mr. Hochhauser said.
Such use of data is why retailers and restaurant chains like Walking Company, Palm Restaurant, Pret a Manger, Cosi, Haru and McDonald's have turned to Mr. Hochhauser to either introduce it into the New York City marketplace or help them grow in it.
The data is central to each retailer's new branch, as it is the data that helps them make "empirically-evidenced" decisions.
"Retailers now have more access to their customer data than ever before," said Mr. Hochhauser. "Our goal at Winick is … to match their data of who, what, when, where, why, [and then] match it with our domain knowledge of the marketplace to find the most appropriate match," he added.
Not bad for a former city official who 17 years ago faced a professional and existential question as to whether he should remain a municipal employee or seek his fortune in an entirely different field.
Well before he came to that point, the Wantagh, Long Island native was a history major at the State University of New York Albany who learned that the job market for historians was slim.
He took a job as a sales manager for Macy's, where he received a rapid education in the ways of retail, learning jargon like "junior," "bridge" and "diffusion."
He left Macy's for a job as a regional manager for General Nutrition Centers (GNC) in New York City, where he ran the shops, handled personnel and supervised merchandising and buying.
The experience would prove to have a lasting importance in his current career in retail brokerage.
"Certainly having a retailer's background and understanding buying patterns and consumer psychology, also combined with my degree in urban planning, I think it makes me a more aware broker," said Mr. Hochhauser.
He left retail to get his master's in urban planning at New York University. It was there that he became a student of GIS, which he learned to use for municipal purposes, "whether it was analyzing land, analyzing economic impact, analyzing zoning, light and air corridors, street wall, everything," he remembered.
Upon graduating, he was hired as an economic development officer by the New York City Department of Business Services, where he was promptly sent to Staten Island. There he served as the Director of Economic Development for the Port Richmond Local Development Corporation.
But the day-to-day involved planting more trees, adding more trash cans on the streets, upping the frequency of street cleanings and including discretionary funds to help capital improvements.
"Those all help; little by little they add up to something bigger," he said. "The little things mean a lot. And on aggregate, it helps a neighborhood."
Then single and desiring a new career, Mr. Hochhauser went through much introspection and self-deliberation before deciding that real estate was the next best course.
He sought out real estate brokers of every shade to get their opinions on his potentially life-changing career choice.
"I sought out one of the best brokers in the marketplace," remembered Mr. Hochhauser.
That broker was Jeffrey Roseman, then a member of New Spectrum Realty Service.
But pinning Mr. Roseman down for a conversation was an experience akin to Charlie Sheen's persistent courtship of Gordon Gekko in the 1987 movie Wall Street.
"I gave him a call, and after a lot of back-and-forth, a lot of stalking, he hired me," remembered Mr. Hochhauser.
His introduction to the retail market was baptism by fire, working with big brand-name clients like McDonald's, Starbucks and Chase bank, to which he otherwise would never have had access because of Mr. Roseman's position in the marketplace.
He opened two McDonald's, one on Broadway and 138th Street, the other on Second Avenue and 97th Street.
New Spectrum was absorbed by Newmark Knight Frank in 2000, and Mr. Roseman and Mr. Hochhauser continued their successful relationship in working with tenants like Chipotle, and on ambitious landlord assignments like the Winter Garden Shops at the World Financial Center for Brookfield Properties and Viacom's world headquarters at 1515 Broadway in Times Square for SL Green.
In 2010, Mr. Roseman and Mr. Hochhauser had to fill in space at 1515 Broadway that was formerly taken up by the MTV studio and store.
Theme restaurants, "fast fashion apparel," "juniors and contemporary" retailers looked at the space, said Mr. Hochhauser, using the lingo from his Macy's days.
Turning to data, Mr. Hochhauser knew that the visibility of a Times Square location would lead to more eyeballs and profitability for the new tenant.
"What makes Times Square so special is the enhanced visibility, and its visibility via a ton of media channels, whether it's TV, movies," said Mr. Hochhauser. "We were able to aggregate all that viewership data and to come up with an eyeball account, so you know if you can quantify eyeballs, there is a dollar value in those eyeballs that can be translated into a retail rent or even a signage rent," he said. That rent turned out to be astronomical: $1400 per square foot for the 1,815-square-foot space.
Mr. Roseman had taken a chance on the former city employee, and their work together has yielded many notable achievements (Mr. Roseman did not respond to repeated requests for comment). When the opportunity at Winick Realty Group presented itself, he said it was hard for him to leave Newmark but noted how difficult it was for him to turn down Winick.
He said his departure had little to do with Newmark Knight Frank's merger with Grubb & Ellis Company.
"It wasn't like me and Amira Yunis or me and Paul Berkman," said Mr. Hochhauser, referring to two former Newmark brokers who decamped to CBRE and Jones Lang LaSalle, respectively.
"It was more of a coincidence of timing than an actual push," he insisted.
Now he is focused on looking for locations for those clients who followed him to Winick, like Haru and Walking Company, while also preparing to announce new clients in the near future. In the meantime, he lives in Fairfield, Connecticut with his wife, a part-time attorney, and his two boys, who with the help of Legos help him re-live his urban planning days.
"We do have a Lego city reminiscent of what we think of New York City," he said, adding that he leaves the city's design to the imagination of his sons.
"There's no zoning. It's more as build as build wants," he said. "It's more free-market forces operating than any government policy."
drosen@observer.com
150 East 44th Street
,
CBRE
,
Chipotle
,
Grand Center
,
Grubb & Ellis
,
Jeffrey Roseman
,
Jones Lang LaSalle
,
Kenneth Hochhauser
,
Knight Frank
,
New Spectrum Realty Service
,
New York University
,
Newmark Knight Frank
,
Palm Restaurant
,
Walking Company
,
Winick Realty Group