Winoker Realty Deals With the Aftermath of David Winoker's Death
---
---
The staff of Winoker Realty have returned to work just days after their president David Winoker was killed in a skydiving accident.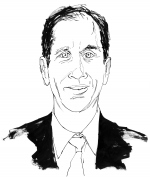 Executive Vice President and Principal Corey Abdo addressed the Winoker team during a brief 5-minute meeting before everyone resumed their jobs.
"Everybody is doing what people would be doing on a Monday morning, which is really weird," said Jonata Dayan, a senior vice president at Winoker Realty. 
"I think David would want us to go on," she added.
Mr. Winoker was skydiving at a friend's 50th birthday party at Skydive The Ranch in Gardiner, NY last Friday when the parachute he shared with the instructor he was connected to malfunctioned. That instructor, Alexander Chulsky, 25, of Brooklyn, may have become unresponsive during the jump. Both men died in the accident.
Plattekill Police Chief Joe Ryan said yesterday that Mr. Chulsky suffered from a pre-existing medical condition that may have caused him to lose consciousness during the jump.
Ms. Dayan, who was personally hired by Mr. Winoker when she first transitioned into real estate by way of the fashion industry a decade ago, said she learned of her boss' death through the extensive news coverage on the accident.
"It was a very big, personal shock to me," said Ms. Dayan, who was noticeably upset. "He was the kindest, nicest boss that one would want."
"If you lost a deal, he would feel bad for you. I couldn't even explain how nice of a person he was, he was beyond nice."
The company has not said anything about who will succeed Mr. Winoker.
"I think we just, from my point of view, that we will go on. I think it's a great company and I think we have a great team, and David's leadership will be sorely missed," said Ms. Winoker.
Calls to Mr. Abdo and other Winoker employees were not immediately returned.
drosen@observer.com