Suri Kasirer, the Lobbyist Behind Cornell's Roosevelt Island Win
---
---
It was near the end of 2011, and what most New Yorkers knew of the city's plan to create an ambitious tech campus on Roosevelt Island was that Stanford University had the project in the bag.
For Suri Kasirer, the founder and president of Kasirer Consulting, the notion could not have been farther from the truth. Indeed, the New York native had been working behind the scenes for months on behalf of her darkhorse client, Cornell University, to whittle down the number of candidates vying to oversee the project, and it was all finally beginning to pay off.
"We're in a service business, so we do whatever we have to do to make sure that our clients can achieve their goals … within a framework of ethics and principle," said Ms. Kasirer, whose offices are decorated with photographs of herself next to a litany of the country's most powerful public figures, Bill and Hillary Clinton as well as Bette Midler not least among them.
"Sometimes it means doing the dirty work."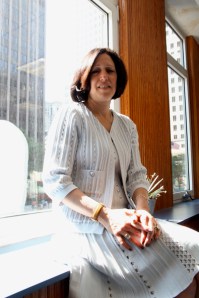 Even before her involvement with Cornell University, the institution now charged with overseeing what many see as Mayor Michael Bloomberg's crowning civic achievement, Ms. Kasirer learned about dirty work during her tenure as advisor to then-Governor Mario Cuomo and as an advocate for nonprofits.
Ms. Kasirer, who is rapidly becoming the real estate industry's top choice for complicated deals, cut her teeth with the Museum of Arts and Design, whose officials had set their sights on 2 Columbus Circle as the museum's next home after the city put the Edward Durell Stone-designed building back on the market in March 2000.
After the museum submitted its request for proposal, controversy arose almost instantly, not to mention lawsuits by the Historic Districts Council and Landmarks West.
"Their beef was that they wanted a landmarks hearing on the building—it was the old [A&P heir] Huntington Hartford building, and they very much wanted it to be landmarked," she said.
Ms. Kasirer and her client eventually prevailed—moving into the so-called "Lollipop Building" in September 2008—and she remembers fondly the scrappiness needed to see the victory through.
"I have to say that I was just there last week and every time I walk in the building, it's such a sense of pride," she said. "[This is] what it takes to do a real project in New York."
Ms. Kasirer and company would go on to fight tougher battles for even bigger real estate projects: She represented Elad Properties, owners of the Plaza Hotel, in their quest to convince the Mayor's Office, the City Council and the Landmarks Preservation Committee (along with the hotel workers' union) to allow them to convert the property into a mix of condos, hotel rooms and retail. Elad eventually got their wish. Ms. Kasirer has also represented SL Green and the Howard Hughes Corporation in their development projects.
But perhaps her most notable victory is her most recent: helping Cornell University win a tech campus on Roosevelt Island.
For a while there, though, it looked as if the prize—in the shape of a 10-acre campus worth $2 billion—was a certain California school's to lose.
"Everybody thought Stanford was going to win," Ms. Kasirer agreed.
2 Columbus Circle
,
Bette Midler
,
Bill Clinton
,
Cornell University
,
Edward Durell
,
Extell Development Company
,
Gary Barnett
,
Hillary Clinton
,
Huntington Hartford
,
International Gem Tower
,
Landmarks West
,
Mayor Michael Bloomberg
,
MGM
,
Museum of Arts and Design
,
Roosevelt Island
,
Stanford University
,
Suri Kasirer
,
Technion-Israel Institute of Technology