SL Green Keeps City Law Department at 100 Church St. For Another 20 Years
---
---
Real Estate Investment Trust SL Green has renewed the New York City Law Department for its 372,520 square foot foothold at 100 Church Street for the next 20 years, starting in November 2013.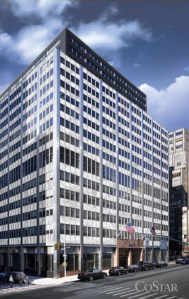 The City Law Department will continue to occupy floors 2-6, 20, and a part of the building's concourse in the lease renewal. Its lease at 100 Church Street was set to expire in 2013. 
CBRE's Michael Geoghegan and John Morrill represented the City of New York in the lease renewal.  Steven Durels, SL Green's Executive Vice President and Director of Leasing and Real Property, represented the firm in-house.
Mr. Durels told The New York Post that the 1,079,644 square foot building is now 82 percent occupied (CoStar data has the building 86.6 percent leased).
This is a noticeable improvement from when the firm purchased the building in 2010, when the building had been 56 percent vacant over the span of five years. The building was previously owned by The Sapir Organization, in which owner Alex Sapir notoriously decorated the building's lobby with 22 Swarvoski chandeliers.
The Sapir Organization defaulted on its loan in 2010, giving SL Green the opportunity to assume the management and leasing of the property. After a foreclosure auction gave SL Green part ownership of 100 Church Street with Gramercy Capital, the firm received full ownership in the property after Gramercy passed on co-funding  and restructuring the $145 million senior mortgage from Wachovia Bank.
The building was redeveloped in 2011, and improvements included a new lobby, new roofs and a repositioning of the building's retail portion.  Tenants in the building include HealthFirst, Niche Media, Interactive Data Corp, and Centerline Capital Group.
SL Green also announced that it had recently refinanced with a $230 million 10-year loan with an interest rate of 4.675 percent, the company announced today.  The financing was provided by Wells Fargo Bank.