Hidary Brothers and Hidrock Realty on Hotel Development on Greenwich Street
---
---
Earlier this quarter, Hidrock Realty made news when it was revealed that the company had acquired a development lot on Greenwich Street near the World Trade Center site for $27.9 million and planned to build a 300-key hotel there. What few real estate analysts may have noticed, however, was that the deal was just the latest in a series of increasingly ambitious hotel projects for the New York City-based development and management company. Last week, brothers Abraham, Eddie and Steven Hidary—president and vice-presidents, respectively—spoke to The Commercial Observer about the hotel market, Lower Manhattan and sibling rivalries.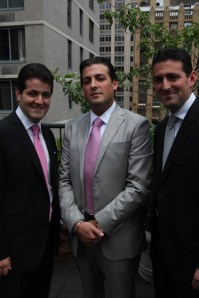 The Commercial Observer: Earlier this year, Hidrock acquired 133 Greenwich Street, a site you intend on developing into a hotel property. Has Hidrock waded into the hospitality market before?
Eddie Hidary: Actually we have two other hotels under development at this point, both Marriott. One is branded as Springhill Suites, 173 rooms, scheduled to open the first quarter of 2013. The other is a Courtyard by Marriott, 168 rooms, scheduled to open around the end of 2012.
When did Hidrock initially get involved in the hotel development sector?
Abraham Hidary: We purchased a defaulted note at the end of 2009 at 960 Sixth Avenue. We foreclosed on that note in the middle of 2010 and we decided to convert it. It was an office building. We decided to convert it to a hotel then. So that happened simultaneous to the Springhill Suites project, which is at 25 West 37th Street. That was two low-rise buildings that we purchased in late 2009 and we had decided really early 2010 to demolish those buildings and build a hotel project. So both of those really happened simultaneous in early- to mid-2010.
Were there discussions about turning those sites into offices or residential instead of hotel?
Abraham Hidary: Yes, the 960 Sixth Avenue project. When we actually purchased the note we thought we'd keep it as an office building, but the hotel market was improving at that point and the office market was sort of stagnating. That's when we decided to convert that building. It was post-purchase of the note, but it was pre-foreclosure that we decided to convert it to a hotel.
What appeals to you guys about the hotel market right now?
Eddie Hidary: Tourism in New York is, as you know, booming and has been setting record levels over the last few years and continues to do so. The streets we walk every day, we've seen how they've changed over the last five or 10 years. Room rates continue to go up, occupancy continues to be strong. So after really learning the industry and seeing it for ourselves within this market that we live in, it really enticed us to want to get into the business.
Hidrock is partnering with hotel investor Robert Finvarb in the project. Had you had a long relationship with the company, or is this a first for Hidrock?
Steven Hidary: No, actually he was one of the guys that we brought up to the team early on. Being that we were experts in New York but not in hotels, he was a key member involved in at least the Springhill Suites project on 37th Street. He helped us finalize the selection of Marriott as our hotel company. When we identified 133 Greenwich as an acquisition, he was one of our first calls.
Do you expect to be working with him on other hotel projects?
Eddie Hidary: Yes, we have a wonderful relationship, as we do with all our partners. We have private high-net-worth individuals as partners as well as institutional partners. Sort of the philosophy that permeates in the office here is that real estate is a gentleman's business and with respect to partners, to lenders, to tenants, to vendors, we can make everything fabulous.
The project is incredibly close to the World Trade Center site. Was that proximity important?
Eddie Hidary: The area has changed a lot over the last 10 years, as we all know. Over the last couple of years, with the memorial now opening around a year ago, it's transformed even further and the vision is starting to become a reality. And it's something that did attract us to the area. Tourism now, you walk the streets over there and there are tourists all over, which wasn't the case. And yes, it did have a play in us wanting to get into that market.
Abraham Hidary: Not only the fact it's the World Trade, but it's also the fact that the entire neighborhood is being transformed from Battery Park to South Street Seaport. Every neighborhood has taken on something special, and with the transit hub coming, it's just going to make it even better for businesses and, as we know, it's already much better for residents and for tourists.