Broadway Technology Moves Headquarters to 140 Broadway
---
---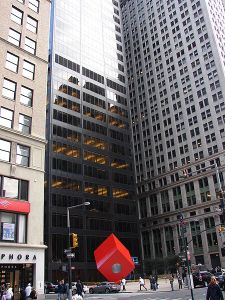 Broadway Technology has signed a sublease for a new headquarters in downtown Manhattan.
The financial tech company will be taking Catlin Inc.'s 13,047 square foot office lease on the 39th floor of Union Investment Real Estate GmbH's 140 Broadway for five years.
The new office, just north of their previous office at 11 Broadway, will serve as the new headquarters. The firm also operates an office in Austin, Texas.
"[Broadway Technology] needed more space. They've been growing," said Zev Holzman, a managing director at Studley. "And they wanted to upgrade the space – something a bit more exciting – and [they] searched in Midtown South for a techy space with a funky floor place with an open ceiling. They opted for a high-end building downtown."
Mr. Holzman was joined by his colleague and an executive managing director at Studley, Paul Revson, in representing Broadway Technology. Catlin Inc. was represented by Bruce Surry at CBRE. The asking rent for the office was in the mid-$50s per square foot.
The building, 140 Broadway, was already named the Marine Midland Building as it was a joint-venture by Harry Helmsley and the Marine Midland Bank. The 51-story building was designed by architecture firm Skidmore, Owings & Merrill and was constructed in 1967 between Cedar and Liberty Streets on Broadway. The building stands 676 feet in the air with floors averaging 25,000 square feet, culminating into 1,250,000 rentable square feet throughout the building. Hines and Cushman & Wakefield serve as the management and exclusive leasing agents for the building.
140 Broadway was known as the HSBC Building when HSBC purchased it in the 1980s. Since HSBC's move to 452 Fifth Avenue in the early 200s, Brown Brothers Harriman have filled 430,000 square feet that was once occupied by the bank.