Swimming with Knakal: A Night in Vegas with The Commercial Observer
---
---
The International Council of Shopping Centers began to thin out notably on Tuesday, as vendors packed up their bags and folded up their booths and brokers headed out to McCarren International Airport for what we presume was a long flight home. Still, The Commercial Observer stuck around to breath in the last fumes of Las Vegas and its final call of RECon festivities, including the New York Developers Party at the Bellagio, widely considered the finale of the conference's flurry of dealmaking and networking.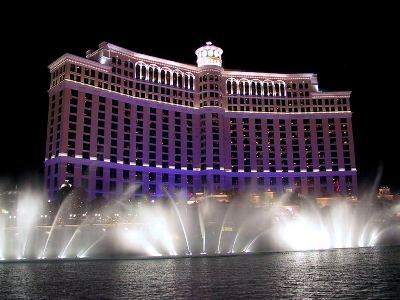 4:00: With the ICSC conference thinning out at the convention center, The Commercial Observer heads for the cab line, bumping into one of the retail brokerage company Ripco's senior leasing executives and partners Peter Ripka on the way. "It's been a great show this year," Mr. Ripka says. "A lot of people left this afternoon to head back but I'm staying until tomorrow. Tonight I think people are going to let loose a little bit more than they have. If you had two or three drinks over the weekend and on Monday night maybe you'll four or five tonight."
6:30: The CO arrives at the Bellagio to poke around before the developer's party. We pop into Olives in the hotel's lobby for a quick drink but the bar is full. The hostess tell us the tables are booked through 10:00 in the evening. No dice.
6:45: The CO bumps into David Kessler, the director of acquisitions for the real estate investment group Waterbridge in the Bellagio's lobby. Mr. Kessler scratches his head at the collection of luxury stores there, such as Gucci, Prada and others that seem to populate the retail entrance of every hotel in town. "There must be like five Hermes stores on the strip," Mr. Kessler, who impressed The CO with his astuteness, said. "They can't be paying rent, it must be a percentage deal where the hotel gets a portion of the sales and the brand is like an amenity for the property."
7:00: The CO meets the beautiful Amira Yunis, a superstar retail executive who just joined CBRE in recent months, for a quick drink at Baccarat Bar, which is located amid the gaming tables in the Bellagio's casino. She is sitting with the New York landlord and developer Jeffrey Feil and his son Brian. "ICSC has been great," Ms. Yunis said, offering to arrive at the party on the arm of The CO. The CO rejoices at having just scored such an incredibly hot date to the developer's party.
7:15: The developer's party is in full swing poolside at the Bellagio complete with mermaids perched by the edge of the water periodically splashing water playfully with their tails. A group of beautiful violinists clad in white plays a collection of rock standards on a small stage at center, including Led Zeppelin.
Adelaide Polsinelli
,
Amira Yunis
,
Bellagio
,
Brian
,
David Kessler
,
Jeffrey Feil
,
Led Zeppelin
,
Ofer Yardeni
,
Olives
,
Peter Ripka
,
Rick Lechtman
,
Robert Knakal
,
Rose
,
Eastern Consolidated