MakerBot Industries to Print Anything and Everything at One MetroTech
---
---
A Brooklyn-born-and-bred 3-D printing company will be moving to its own floor at One MetroTech, the Downtown Brooklyn building owned by Forest City Ratner Cos.
MakerBot, the creators of the 3-D printer The MakerBot Replicator™,  will be moving out of its current Brooklyn digs at 87 3rd Avenue to take the entire 21st floor at One MetroTech.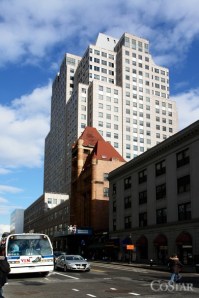 The firm signed a 5-year lease to take 31,250 square feet. Asking rents were $32 a square foot.
Glenn Markman and Joseph Cirone, both of Cushman & Wakefield, represented MakerBot in the deal. Keith Caggiano of CBRE represented Forest City Ratner Cos.
In need of new space, MakerBot and its Cushman & Wakefield brokerage team explored several different neighborhoods throughout Brooklyn, looking at Sunset Park and DUMBO, among other neighborhoods. Other buildings had a particular charm to it, but it was One MetroTech that MakerBot found to be the most "romantic."
"This hit their sweet spot," said Mr. Markman. "We got so much infrastructure from this building," said Mr. Markman.
The new office space will house a combination of sales and marketing staffs, along with various other departments. All told, the company will have over 100 people in the building.
Founded in 2009 by Bre Pettis, Adam Mayer, and Zach Smith, MakerBot offers an open source 3-D printer intended to "democratize manufacturing." The company uses raw feedstocks like ABS and PLA (a biodegradable material made from corn) to manufacture any kind of product, like a toaster to a banana peel.
drosen@observer.com