CIT Real Estate Finance Provides $25M Loan for The Lofts at Edgewater Harbor
---
---
CIT Real Estate Finance has arranged a $25 million senior secured loan that will be used for the development of a residential condo complex in Edgewater, N.J. The loan is to National Resources, which is developing a 150-unit residential condo complex there called The Lofts at Edgewater Harbor.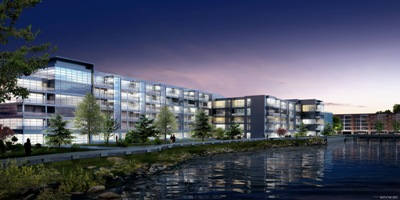 For CIT Real Estate Finance, it marks the first time its current iteration has acted as sole lender for a project. Group head Matt Galligan—profiled in the April issue of The Mortgage Observer—said that financing for The Lofts is in line with its focus on top-tier sponsors and developers in major cities.
"I think it's in the box," Mr. Galligan told The Commercial Observer. "It's a middle market deal in the metropolitan New York area. And we've done business with [Joseph] Cotter before when we were at Bank of Ireland." That project was an office building in Norwalk, Conn., he said.
Joseph Cotter, principal at National Resources, said in a prepared statement that the loan would allow it "to transform this former industrial site into a vibrant community of residential homes, shops and restaurants." The spot was once the headquarters for Unilever's Research and Development outfit. He added that "CIT's deep industry experience and skilled team was able to quickly complete this transaction," allowing for construction to begin on the project's next phase.
The admiration goes both ways. From Mr. Galligan's perspective, The Lofts was attractive due to its location, among other reasons. "It's got low leverage—about a 50 percent loan to value ratio," he said. "And it's right on the Hudson River, with unobstructed views and it looks across 96th Street so by the left hand side you see the George Washington Bridge, straight ahead you see 96th Street and the panorama of Manhattan."
CGaines@observer.com