UPDATE: Nordstrom Rack Eyeing 1095 Sixth Avenue
---
---
Nordstrom Rack is reportedly in talks to snap up the 36,000 square foot Bryant Park retail space that is currently housing an NFL pop-up store.
The retail space at 1095 Avenue of the Americas, an office tower owned by the Blackstone Group, has been used as a pop-up store by Dylan's Candy Bar and now the NFL, which is occupying the space in part to countdown its upcoming NFL Draft.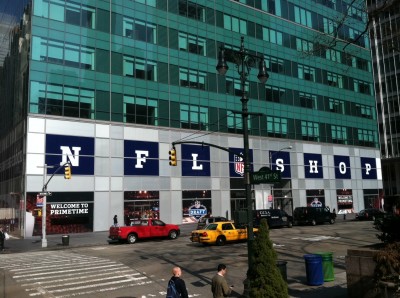 But the pop-up strategy was being done in the hopes of luring in a retail tenant to take a long-term lease in the space.
"We really value as ownership who the potential tenant might be, and this is our way to send that message to the marketplace," said Eva Santiago, of The Blackstone Group, in a conversation with The Commercial Observer last month.
That strategy may have worked. The NY Post is reporting that Nordstrom is "hotly pursuing" the retail space for the fashion retailer's discount store, even going as far as hiring their architects to draw up plans.
It was not clear whether Nordstrom Rack would be snapping up the 36,000 square feet of space (The NY Post is reporting 32,000) or take a much larger block of space at 50,000 square feet in 1095 Avenue of the America's concourse.
Alan Schmerzler, an executive director at Cushman & Wakefield who handles leasing for the retail space at 1095 Avenue of the Americas, declined to speak with us. Ms. Santiago could not be reached for comment.
Last year The Commercial Observer reported that Nordstrom had been circling around two potential leases at the West Side railyards and at Extell Development's 157 W. 57th Street.
The "White Whale of West 57th Street" was rumored to be eyeing retail space sized at up to 250,000 square feet of space.
As Daniel Geiger reported last year:
The solution, of course, has been for Nordstrom to accept a smaller space with a layout that is atypical for a traditional department store.  Many brokers say the template for this configuration is the Bloomingdale's on Broadway in Soho, where the retailer had to greatly reduce the size of its store and tailor its clothing line and layout to appeal to the type of shoppers in that neighborhood.
Nordstrom added 18 new stores last year, and has 226 stores in 30 states, said The NY Post. 105 of those stores were Nordstrom Racks.
UPDATE (1:56 p.m.)
A person familiar with the building told The Commercial Observer that there have been discussions with between Nordstrom's and 1095 Avenue of the Americas but there is no deal in place.
Speculation that a deal was imminent was akin to "jumping the gun," said the person.
"When guys jump the gun it frightens people away," said the person, who declined to be named.
drosen@observer.com/@dedwardro