Cushman & Wakefield "Spring Into Action Tour" to Spring Yet Again
---
---
A Cushman & Wakefield (CWK) team led by David Rosenbloom will be launching its second annual "Spring Into Action Tour," an event that brings outside brokers into four Midtown office buildings owned by APF Properties.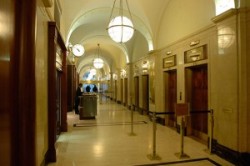 The event, which is set to take place on April 25, will allow brokers and their clients to explore 1156 Avenue of the Americas, 25 West 45th Street, the newly anointed "Club Row Building" at 28 West 44th Street, and 285 Madison Avenue. 
Last year's inaugural "Spring Into Action" event was attended by 68 brokers and resulted in 24 lease transactions totalling 85,604 square feet, claim Cushman & Wakefield officials. A total of $874,133 in commissions was doled out to brokers.
Brokers attending the event were each awarded a $50 Visa or American Express gift cards and were automatically entered into a raffle to win a free iPad. Last year's lucky iPad recipient was Peter Trivela of UGL Services. 
The event also helped lead to eventual lease transactions. At the "Club Row Building," firms like Crew Cuts, Inc. and Invision Inc. took 17,773 square feet and 13,113 square feet at the building, respectively, in the past year. There was a total of 59,805 square feet in new leases and renewals at the building.
"We closed 24 lease transactions since last September," said Mr. Rosenbloom.
There was 15,298 square feet of space leased at 25 West 45th street, 5,467 square feet of space leased at 286 Madison Avenue, and 5,034 square feet of space at 1156 Avenue of the Americas.

Mr. Rosenbloom and co. are renewing this program in the hopes of moving "plaza quality pre-builts" in these properties, sized between 2,000-to-5,000 square feet.
"We wanted to attract the broker that caters to that size, to come and actually see the products," said Mr. Rosenbloom.
Mr. Rosenbloom is working with Joshua Goldman, Emily Weber, Jonathan Fales, and Michael Blanchard. 
Kenneth Aschendorf, a principal of APF Properties, did not return a phone call requesting comment.
Staff Writer Daniel Edward Rosen can be reached at drosen@observer.com or at www.twitter.com/dedwardro
1156 Avenue of the Americas
,
25 West 45th Street
,
28 West 44th Street
,
285 Madison Avenue
,
APF Properties
,
Crew Cuts
,
David Rosenbloom
,
Emily Weber
,
Invision
,
Jonathan Fales
,
Joshua Goldman
,
Kenneth Aschendorf
,
Michael Blanchard
,
Peter Trivela
,
UGL Services
,
Cushman & Wakefield