Construction Firm Charged with Fraud, Ripping Off Minority-Owned Businesses
---
---
Construction firm Lend Lease (US) Construction LMB, nee Bovis Lend Lease, was hit with fraud charges and ordered to pay up to $56 million by the US Attorney's Office in Brooklyn Tuesday.
The firm, which worked on projects like the Bronx Criminal Courthouse in the Bronx, Grand Central Terminal, and Citi Field in Queens, was accused of "fraudulently" overbilling its clients for the past two decades. Bovis was also accused of "misrepresenting the work performed by its minority business enterprise partners" in order to win bids on public projects, the US Attorney's Office said.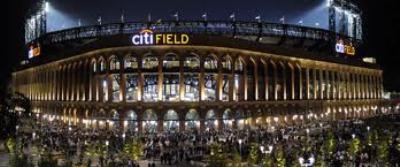 "Through this deliberate scheme of billing clients for work not done, Bovis deceived their customers and stole taxpayer dollars," said US Attorney for The Eastern District of New York Loretta Lynch. "They also abused a program — designed to benefit and train minority contractors — for their own profit motive," she added.
Formerly known as Bovis Lend Lease LMB inc., the firm operated in over 40 countries throughout the world, and employed over 1,000 people in the US.
From 1999 to 2009, the firm "fraudulently" billed clients for hours that were in fact not being worked by labor foremen from Local 79 Mason Tenders' District Council of Greater New York. Bovis would do this by frequently padding the time sheets for each labor foremen with one or two hours of unworked overtime per day, prosecutors said.
Bovis would also complete time sheets for labor foremen who were otherwise out sick or away on holiday. Lend Lease would dish out extra lump sum and stipend payments to a group of labor foremen, then bill those payments to clients. Those clients, prosecutors say, were left completely in the dark about the true and illicit nature of these charges.
Former Bovis NYC head honcho James Adabie was charged with playing a crucial role in the firm's unscrupulous overbilling practices. While serving as the Principal in Charge of Bovis' New York Office from 2002 to 2009, he "explicitly and fraudelently directed his subordinates to carry out the practice of adding unworked hours to labor foremen's time sheets," the US Attorney's Office said in a press release.
The firm would do this while working on the Bronx Criminal Courthouse, Citi Field, and, ironically enough, the US Eastern District Courthouse where Mr. Adabie pled guilty Tuesday.
Mr. Adabie was also charged for lying about meeting Minority Business Enterprise requirements on the Bronx Criminal Courthouse construction project. In 2000, Bovis told the Dormitory Authority State of New York, the agency that oversees MBE, that it would hire H.J. Russell & Company (the "single largest MBE real estate firm in the country," according to its website) to perform 100 percent of Bovis' general conditions contract work that required union labor, prosecutors said.
But Bovis secretly did the work themselves "by directly managing the union labor that was supposed to be employed and supervised by HJR," prosecutors added. This allowed Bovis to get "false credit" for meeting its MBE requirement and, ultimately, receive pay for the project. Bovis committed a similar scheme with the New Jersey Schools Development Authority for its contract with the Abbott Schools Program in New Jersey.
Mr. Abadie faces up to 20 years in prison and a fine of $250,000 or greater. Bovis will pay $56.6 million in penalties to the federal government and restitution to victims. It has already paid $5 million to the city.