UPDATE: CBRE Gets 111-115 Broadway Assignment
---
---
CBRE has been tapped to handle leasing for the Trinity Centre, two landmarked Downtown office towers owned by Capital Properties, The Commercial Observer has learned. 
A CBRE team of Adam Foster, Brad Gerla, Peter Turchin, and Sam Spillane will be handling the leasing for both 111 and 115 Broadway, comprising a total of 944,257 square feet.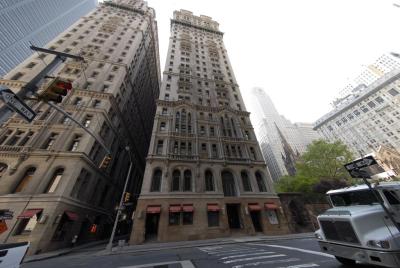 CBRE will be replacing Cushman & Wakefield for both pre-war buildings, located just a block away from the World Trade Center development site.
Asking rents for the Trinity Centre are expected to be between $36 and $40 per square foot, CBRE announced in a press release.
"The tech and media-centric Midtown South market is experiencing virtually zero availabilities for these fast-growing sectors, which are looking increasingly seriously at the high-value space opportunities Downtown," said Mr. Foster in a statement sent to The Commercial Observer. 
CBRE used to handle the leasing at both buildings from 1999 to 2005, according to a person close to the matter.
Mssrs. Gerla, Foster, Turchin and Spillane could not be reached for comment.
CBRE  plans on repositioning the Trinity Centre with the aim of luring in creative and technology firms to the Downtown market, the firm said in its press release.
The buildings themselves have gfreat bones, they are really ood assets,
UPDATE (2:00 P.M.)
In a phone conversation with The Commercial Observer, Adam Foster said that he and his team are excited to have two buildings in Downtown's increasingly evolving landscape.
"It's not like your grandfather's downtown," he said. "All of a sudden it has a cool and hip factor to it."
CBRE is looking to repopulate most of the tenant base with a "new kind of tenant," which will be mostly smaller tech and info companies instead of the bigger household names.
drosen@observer.com 
111 Broadway
,
115 Broadwat
,
Adam Foster
,
Brad Gerla
,
Capital Properties
,
CBRE
,
Cushman & Wakefield
,
peter turchin
,
Sam Spillane
,
Trinity Centre
,
World Trade Center