133 Greenwich Sells for $27.9 Million
---
---
A development site in Lower Manhattan that investor Sam Zell tried to purchase two years ago has be acquired by Hidrock Realty for $27.9 million, The Commercial Observer has learned.
The vacant parcel, located at 133 Greenwich Street, can accommodate up to about 135,000 square feet of hotel or commercial development. According to sources, residential space can also be built but the density of the development must be reduced for that type of project according to the zoning at the site.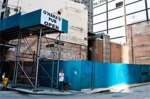 An investment sales team from the brokerage company Eastern Consolidated led by company executives David Schechtman and Lipa Lieberman, Robert Khodadadian and Adelaide Polsinelli, a broker who just joined the company in recent weeks, handled the sale for the seller, the Shapiro family. None could be reached for comment.
133 Greenwich Street was acquired in 2007 by an Israeli firm Ofek International Real Estate, which according to reports paid nearly $40 million for the site and planned a hotel there. Eventually in 2009, during the economic downturn, the company defaulted on the property, which went back to lender U.S. Bancorp.
The bankruptcy auction attracted Equity Residential, the residential development and investment company whose chief executive is Sam Zell. Mr. Zell eventually lost the site during the auction when Mr. Shapiro's acquisition entity Greenwich Thames Realty agreed to pay $19.6 million for the site.
The appreciation the company has been able to reap in less than two years for merely holding the parcel shows how the value development sites in Manhattan has risen as the economy has recovered and the city's real estate markets have rebounded.
The site is well located Downtown, in close proximity to the World Trade Center site, a multibillion dollar development that will offer improved transportation and other amenities such as a public park.
Updated: Previously The Commercial Observer had stated that the purchase price was $28.5 million. Hidrock Realty said this figure was incorrect and that the purchase price was $27.9 million. Hidrock also said the site possessed 135,000 square feet of development rights, not the 150,000 square feet that The Commercial Observer originally reported.