One year ago, Jamestown Properties' Plans for Chelsea Market hit a Dead End.
---
---
Michael Phillips, a robust, healthy-looking fellow with the sun-kissed wavy blond hair of his California youth, wants to add office and hotel space to the Chelsea Market, the historic former biscuit building that stretches an entire city block.
The plan is fairly straightforward: Add 240,000 square feet of Class A office space on top of the 10th Avenue side of Chelsea Market and add 90,000 square feet of hotel space to the Ninth Avenue portion of the city block-long property.
Why the proposal would cause a flurry of opposition from neighboring groups—save for a singular vote of support from the Friends of the High Line—has been a matter of befuddlement and disappointment for Mr. Phillips, the chief operating officer of Jamestown Properties, the development group that since 2004 has envisioned the building's upward expansion despite opposition from some residents.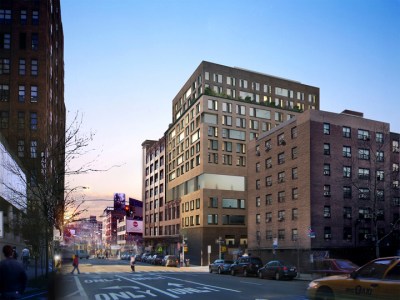 "We easily have 350,000 square feet of need now," said Mr. Phillips during an interview with The Commercial Observer last week. "We can't just go to the vacant lot down the street and build a new building, because the infrastructure, the cooling tower, the electrical vaults, the recording studios, the servers are all up in this building."
The expansion plan, he has long insisted, would inject $300 million into the local economy, bring $200 million in construction-related spending, add $7 million in incremental property taxes per year and create 1,200 permanent jobs in industries that are the most "democratic in terms of formal education," like food, media and technology.
After submitting his plans for certification for an eventual review under city's Uniform Land Use Review Procedure, Mr. Phillips will once again have to parse out the angry protestations of Chelsea Market's neighbors from his steadfast hope that Jamestown Properties will one day see a new office and hotel sitting on top of the market.
When drawings of the project was first introduced to the public in 2011, the cantilevered glass box was derided by Community Board 4 as "ugly." Other detractors, most of whom sat in Community Board 4's meeting while wearing "Save Chelsea Market" pins in a show of support, saw the plan as an attack on the retail identity of Chelsea Market.
Chelsea Market
,
Community Board 4
,
David Burns
,
David Holowka
,
DNA Info
,
Food Network
,
Friends of the High Line
,
Google
,
Greenwich Village Society for Historic Preservation
,
Jamestown
,
Jim Jasper
,
Michael Phillips
,
Save Chelsea
,
Save Chelsea Market
,
Studio Architects
,
Uniform Land Use Review Procedure
,
West 15th Street Block Association