In The Navy: Andrew Kimball and Brooklyn's Morphing Manufacturing District
---
---
As the entertainment and media bubble grows, Andrew Kimball's head begins to hurt.
"It makes me crazy when I hear an economist report on the sectors in the city and the manufacturing bubble is always shrinking," said Mr. Kimball, president and chief executive of the Brooklyn Navy Yard Development Corp., the nonprofit tasked with managing the 300-acre site for New York City, which owns it. "But you see right next to it the entertainment and media bubble and those are expanding."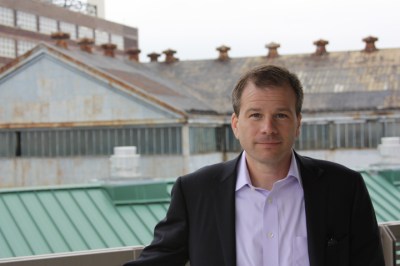 It was drizzling out and he had driven over from his office on the other side of the yard—such is the size of the place—to meet The Commercial Observer in the lobby of the Brooklyn Navy Yard Center's Bldg. 92, which houses a visitor's center, offices and a café.
To this point, in the New York State Department of Labor's most recent "Significant Industries" report for the city, manufacturing doesn't even make the cut. The report identifies significant industries on the basis of several metrics, such as job growth and wage levels. Twelve are listed—among them broad categories like professional and technical services and food and beverage stores.
Mr. Kimball drove The Commercial Observer around the massive yard and the reason for any frustration became readily apparent. He pointed out the building where sets for Saturday Night Live are constructed and pointed out where Duggal Visual Solutions manufactures lighting. The list of tenants seemed endless, as does the list of those on the waiting list for space.
"The amazing thing is that we're not only full," he said, "but we have a waiting list of at least 100 businesses that want to get in to the Navy Yard."
So it seems that manufacturing is alive and well, just not quite the way you might imagine, or romanticize it.
"It's a new kind of manufacturing—it's mostly driven by the creative class, highly educated folks, who went to school in New York," Mr. Kimball explained. "And they want to make something near to where they live."
Admiral's Row
,
Andrew Kimball
,
Atlantic Yards
,
Bldg 92
,
Brooklyn Navy Yard Development Corporation
,
Daniel Doctoroff
,
Duggal Visual Solutions
,
Mayor Bloomberg
,
New York Public Library
,
NYC2012
,
Paul LeClerc