Horton Point LLC Finalizes Lease Deal at 120 W. 45th
---
---
Horton Point LLC, a hedge fund headed by Dimitri Sogoloff, has finalized its lease deal to take 5,900 square feet of space at 120 West 45th Street, it was announced last week.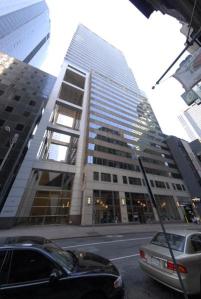 Jordan Mandel, a principal of The Vortex Group, represented Horton Point in the deal. Diana Biasotti, Frank Doyle, Paul Glickman, David Kleiner and Jonathan Tootell of Jones Lang LaSalle represented SL Green Realty Corp., the owners of 120 West 45th Street.
Asking rents were between $50 to $70 a square foot in the 397,188 square foot building. The lease is for five years.
Horton Point will be taking a portion of the fourth floor in its new lease. The firm is relocating from its old offices on 1180 Avenue of the Americas.
Mr. Sogoloff, a co-founder of the then-$1 billion hedge fund Alexandra Investment Management, started Horton Point in 2006 as a "multi-strategy quantitative investment firm." He had joined forces with Vladimir Finkelstein, Horton's chief science officer and the former global head of credit derivatives analytics at Goldman Sachs.
In a 2007 interview with Hedgeweek, Mr. Sogoloff said that his firm was targeting institutional investors and would be using "rigorous research, development, testing, and staging of algorithmic investment strategies" in its decision making.
"In our multi-strategy format, there are numerous opportunities which can be explored and exploited with sophisticated quantitative techniques," Mr. Sogoloff added.
120 W. 45th, otherwise known as "Tower 45", saw a flurry of lease activity inside the building since the start of 2012. DeVry College of New York expanded into 19,397 square feet in the Bryant Park area building, taking the entire 6th floor while also remaining on the fifth.
drosen@observer.com