Florida Gator Erving Walker, Pride of CBRE
---
---
When the Florida Gators take on the University of Virginia in today's NCAA tournament, there will be a dedicated group of professionals from CBRE (CBRE) who will keep their eyes glued to the screen as they root for a tiny and tough point guard to guide the Gators to victory.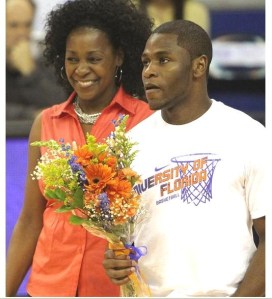 That's because the guard in question, 5-foot-8 Erving Walker, is the son of proud mom (and proud CBRE-er) Kim Woodruff-Walker.
While he prepares for this afternoon's game against the UVA Cavaliers, which could be the senior point guard's final contest as a Florida Gator, Ms. Woodruff-Walker said her son is very calm, cool, and collected, as he often is.
"He doesn't get too excited," Ms. Woodruff-Walker told The Commercial Observer.
"I spoke to him today, he seems like Erv – very calm."
As is the case with most of her son's games, a good group of her colleagues at CBRE are sure to steal a brief moment to check up on the game.
"They keep up with the sports and they know Erv and they support him," she said. "Erv loves it here."
Mr. Walker grew up in the Brownsville section of Brooklyn, where as a young child he took an immediate shining to basketball.
"He used to go down to the gym and play with his father when he was, like, 3 years old, and he [the father] would come back and say 'Erving can shoot,"' said Ms. Woodruff-Walker. "I was like, 'yeah, just an exaggerated, happy dad.'"
Both parents entered Walker at an afterschool basketball program, and that's when Ms. Woodruff-Walker saw her son's potential.
"Much to my surprise, he was pretty good at 5," she said. Despite his age –players had to be 7 to play on the team– Mr. Walker was allowed to play and "held his own" against the older competition, she added.