Digital First Media Moving to 5 Hanover
---
---
The 300,000-square-foot building on 5 Hanover Square, owned by Savanna, will be the new home for Digital First Media.
Digital First Media will be occupying a 9,800-square-foot suite on the highest floor – 25th floor – in the building. "There will be no offices in the new environment," said John Paton, CEO of Digital First Media.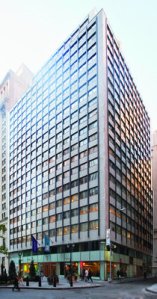 The firm employs 10,000 workers in 18 states with more than 800 web and print products that serve 57 million customers every month.
"Digital First Media started running both Journal Register Company and MediaNews Group in September of 2011. Both companies had offices in midtown," Mr. Patton added, "This consolidates into one – at a cheaper rate."
The office will also be home to their expanding national web content team named Thunderstorm.
The asking rent was $37 per square foot and the lease term was set for seven years. Frank Cento of Cushman & Wakefield (CWK) Inc. represented the landlord and Benjamin Mohr and Gordon Odgen represented the tenant in the transaction.
"Lower Manhattan has great buildings, transportation, good rates and a growing media community," Mr. Paton further commented, "There is an abundance of talent in the area."
Savanna, a New York-based real estate firm that purchased the building in all cash transaction in September 2010, signed four tenants last year including Magna Group, an advertising agency, and Odyssey Financial Technologies. The firm also owns notable buildings such as 31 Penn Plaza, 100 Wall Street, 80 Broad Street.
31 Penn Plaza
,
5 Hanover Square
,
80 Broad Street
,
Digital First Media
,
Frank Cento
,
Gordon Ogden
,
John Patton
,
Journal Registry Co
,
Magna Group
,
MediaNews Group
,
Odyssey Financial Technologies
,
Cushman & Wakefield
,
Savanna