Cushman & Wakefield Tapped as Exclusive Leasing Brokers for 501 Seventh Avenue
---
---
Cushman & Wakefield duo Harry Blair and Sean Kearns have been named the exclusive leasing and managing agents for 501 Seventh Avenue, the W&H Properties-owned 18-story office building in the thick of the Midtown South market, it was announced in a press release today.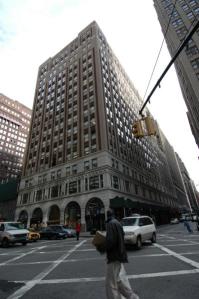 Mssrs. Blair and Kearns, who also handle leasing for 250 West 57th Street, another W&H Properties building, will be replacing CBRE as the leasing agents for 501 Seventh Avenue.
"Harry and Sean are already doing a great job highlighting the qualities of these outstanding Pre-War Trophies to more and better members of the brokerage community,"  said Anthony Malkin, president of Malkin Holdings, which supervises W&H Properties.
Since receiving a $53 million capital improvement program in the mid-2000s, the building has netted two Building Owners & Managers Association New York Pinnacle Awards: the Operating Office Building of the Year in 2007, and the Renovated Building of the Year in in 2006.
Situated mere steps away from Penn Station, the 500,000 square foot office building offers suites that range in size, from 1,500 square feet to 13,500 square feet. 
"Broker commissions are paid in full at lease signing," concludes the press release.
drosen@observer.com