Banorte Securities is Moving Up Thirty Floors at 140 East 45th Street
---
---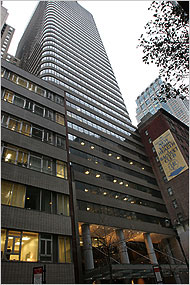 Banorte Securities, a Mexican financial firm based in Monterrey, is expanding its New York office at Rockwood Capital's building at 140 East 45th Street.
Banorte has been a second-floor tenant of the building for the past seven years, but recent growth and a fast approaching lease expiration has pressured expansion. The bank will be moving to an 8,500-square-foot office on the 32nd floor. "They wanted great views, light and air," CBRE vice chairman Paul Amrich said of Bonarte's interest in the building. He added that the middle and upper portion of the building provides that. Mr. Amrich represented Rockwood Capital in the deal.
The lease was signed for a ten-year term with an asking rent in the highs $70s. In addition to Mr. Amrich, Neil King represented Rockwood Capital and Peter Olans of Trident Commercial Realty represented Banorte.
Rockwood Capital, whose investments are valued upwards of $11 billion, purchased the building last year for $401 million. 140 East 45th Street, commonly known as 2 Grand Central Tower, is 44 stories, over 600,000 square feet, and received a 2011 Energy Star label award in operating efficiency.
In the coming spring, Rockwood will be renovating the lobby, elevator bank and the plaza outside, which contributed to Banorte's decision to remain in the building.