$33 Million Williamsburg Sale Shows Hotel Craze Filtering to Boroughs
---
---
The trade of a boutique hotel in Brooklyn is the latest indication that the New York City hotel market continues to be on fire. And the co-developers on the project weren't even looking for a buyer.
Hotel Williamsburg, a 64-key, full service hotel that opened its doors just last November, was bought by King & Grove March 8th for over $33 million. Renamed King & Grove Williamsburg, the hotel, at 160 North 12th Street in Williamsburg, has followers of the city's hotel sector abuzz.
Daniel Lesser, president and CEO of LW Hospitality Advisors, told The Commercial Observer that the deal speaks to the city's overall health. "It's a brand new hotel in a really dynamic market—Williamsburg is very much a happening place," Mr. Lesser said. "It's very emblematic of the fundamental health of New York and how all parts of the city have been, and continue to be, gentrified." Mr. Lesser also pointed to areas like Long Island City, where ten to twenty years ago, "there wasn't a whole lot happening."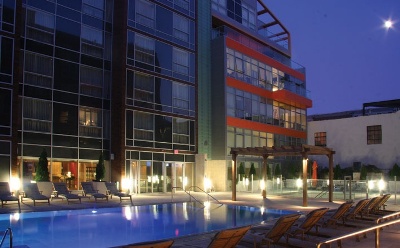 Hotel Williamsburg was co-developed by Minneapolis-based Graves Hospitality Corp. and Williamsburg-based KSK Construction Group—developer of the GEM Hotel Union Square.
According to a statement from Graves Hospitality, the developers hadn't anticipated selling. Rather, they planned to "indefinitely operate the property," but "the market's overwhelmingly enthusiastic response to the high-profile project attracted a non-solicited purchase offer that was simply too good to refuse."
Benjamin Graves, president of Graves Hospitality, said that the sale highlights the company's "skills at understanding the intricacies of specific locations and submarkets, identifying the right concept and developing relevant, high-quality projects to drive demand and profitability."
Mr. Lesser, at LW Hospitality Advisors, referenced a "New York metropolitan renaissance," the benefits of which are making their way to the outer boroughs. "That's what we're seeing in Brooklyn and that's why we're seeing hotels like this get built in the first place and then, secondly, end up trading at some very healthy numbers," Mr. Lesser added. "These are evolving markets on the upswing."
CGaines@observer.com