With three dozen projects underway in Long Island City, the brothers behind Rockrose Development—two of whom split to form TF Cornerstone in 2009—are poised to compete against one another for prize renters and retailers in what is rapidly becoming Queens's answer to Williamsburg and Dumbo. TF Cornerstone chairman Thomas Elghanayan spoke to The Commercial Observer about the EastCoast, his firm's waterfront rental complex, the infamous Rockrose Development coin toss, and his tense relationship with brother Henry Elghanayan, chief executive of Rockrose Development.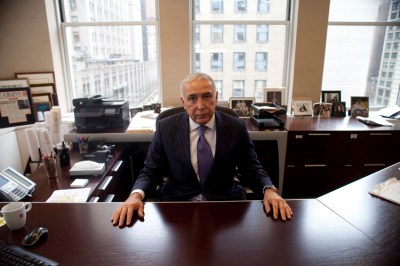 The Commercial Observer: TF Cornerstone is developing what it calls the EastCoast, three luxury rental buildings along Center Boulevard near the waterfront. That's in addition to the View, another rental complex. Why so confident in Long Island City?
Mr. Elghanayan: We've been working on this for quite some time. We have a bunch of buildings there. They've all rented well, and as we build more buildings, that location becomes a better-known destination. When people look at the rental possibilities, now they consider Long Island City one of those possibilities. That, actually, is why we're rushing on all these buildings—because we believe in the sort of critical mass of building the neighborhood and attracting tenants. It's four minutes on the 7 train to Grand Central.
Besides the TF Cornerstone development projects under way, Rockrose is also building in the area. What else is happening in Long Island City besides what the three Elghanayan brothers are pursuing?
Quite a few buildings. There's 35 other residential construction projects as you go east from our waterfront, which is sort of the prime area in Long Island City, where the high-rise buildings are quite large. We're also putting in a park that's almost finished now, and there's a school that started construction—K-8—that's adjacent to one of our buildings. And there's also a library going in now too. And we have planned a lot of retail in our buildings as, really, a convenience for the neighborhood. We're putting in a coffee shop called Sweet Leaf. The New York Times said it had the best espresso in the United States. But we consider this a great amenity for the area because we'd be happy to have a Starbucks, of course, but this is better than a Starbucks because it sort of fits into the image of Long Island City—not chain store but more boutique, Williamsburg-like shops.
Do you feel like TF Cornerstone is playing a role in carving out a specific niche for the neighborhood, like the Walentas family has done in Dumbo?
Yes, we've been consciously working on it. Just look at the kind of retail we've put in there. We put in the coffee shop. We put in Shi, a very good Asian fusion restaurant. And we have a spinning outfit there called rotations. So it's all community-based services.

How will these projects differ from those being planned by Rockrose Development—the development company you and your brother Frederick separated from in late 2009?
I'd say, concept-wise, they're all high-end luxury projects. If they were on the Manhattan side, the rent would be 25 percent more—in our case, at least. I don't know what the rent differential is with Henry's buildings, which are farther inland. We view being on the waterfront, and being directly on the waterfront next to the park, as the equivalent of sort of Fifth Avenue in New York City. This is really the prime Long Island City—or actually the prime Queens—or actually really, really, the prime outer-borough location.