Stephen Meringoff Sells Last L.A. Asset
---
---
He's putting all his chips on New York City.
Himmel + Meringoff Managing Partner Stephen Meringoff told The Commercial Observer that he has sold the last building in his Los Angeles portfolio, leaving the firm with a roster made entirely of New York City properties.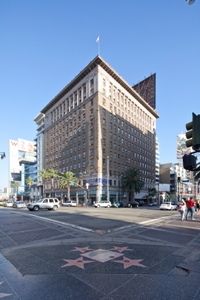 "We have gone in a direction of consolidation and we are going to put all our energy and passion into New York," Mr. Meringoff told The Commercial Observer during a telephone interview yesterday.
Last month, Mr. Meringoff sold the Taft Building, a 12-story, 117,000-square-foot structure on 1680 Vine Street that once counted the Academy of Motion Picture Arts and Sciences and The Hollywood Reporter as tenants, to DLJ Real Estate Capital Partners LLC. The deal, which closed Dec. 28, raked in $27.5 million.
It also tied a Hollywood ending to Mr. Meringoff's long-standing love affair with Los Angeles real estate, where he had become the largest office owners in the late 1980s when he amassed upwards of 900,000 square feet. At its peak, Mr. Meringoff's L.A. portfolio featured the CNN Building and two of the four corners of Hollywood and Vine, arguably the most famous intersection in California.
"We are out of LA," said Mr. Meringoff. "We had a good run there from 1983 to now."
Mr. Meringoff decided to sell the Taft Building at what the owner perceived to be a profitable period.
"Rents seemed relatively static for long periods of time, but you could always find a right time in the cycle to sell, which is what we did," he said.
The firm's decision to divest its LA portfolio was spurred on by a strategy to be "more committed that ever to upgrading and expanding our New York portfolio and I wanted to make sure I was able to focus 100 percent of my energy and passion on that pursuit as we move forward," he said in a prepared statement sent to The Commercial Observer.
"We believe in the market here more than any other market in the country," he said.
Co-owned with Leslie Wohlman Himmel, Himmel + Meringoff owns and operates in excess of 2 million square feet of office, retail and industrial space. Its most recent acquisition was an office building at 158 West 27th Street in December 2010 for $25 million, a cheaper price than what the $47 million seller The Louis Dreyfus Property Group paid for when it bought the building during the height of the market).
Drosen@Observer.com