Buyer of Witness Assets Revealed!
---
---
Sugar Hill Capital Partners has purchased 50 Orange Street in Brooklyn Heights for $7.1 million from the Jehovah's Witness-operated Watchtower Bible and Tract Society of New York, brokers have revealed.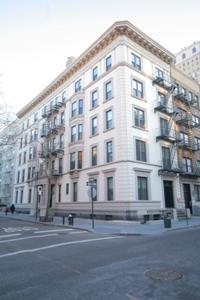 Sugar Hill, according to its website, is a real estate investment firm that focuses on Brooklyn and Manhattan assets with repositioning potential. A spokeswoman for the firm, Aliza Weinstein, confirmed the company had purchased the building but declined to comment any further.
Fifty Orange Street is a five story, 15,355-square-foot, multi-family building with 20 residential units, an equal mix of ten studios and ten one bedroom apartments. The building had been used to house members of the Jehovah's Witness organization, which owns about three-million-square-feet of residential and commercial office space in Brooklyn and operates its world headquarters in the area. According to recent reports, the organization is considering liquidating its substantial real estate holdings in the city and relocating to Upstate New York.
Robert Knakal, chairman of the real estate brokerage company Massey Knakal, handled the sale and said that the property was especially desirable because it was offered by the seller fully vacant. Usually properties of this type and in prime locations have rent stabilized tenants, he said, which can impact value because these types of tenants pay lower-than-market rental rates.
The Jehovah's Witnesses also take excellent care of their real estate holdings, Mr. Knakal noted—and 50 Orange Street was in pristine condition. According to a release issued by Massey Knakal, the property was renovated by the religious group in 2006.
"We didn't set a specific price [marketing the property]," Mr. Knakal said. "We received a ton of interest. About a hundred buyers took a look at this building, which is a lot. It was clearly very highly sought after because of the location, it was vacant and the Jehovah's Witnesses keep their properties in immaculate condition."
Mr. Knakal is in the process of marketing two other Jehovah's Witness properties in the Brooklyn Heights neighborhood: 183 and 161 Columbia Heights. The former is a seven-story, 13-unit, vacant apartment building that boasts approximately 15,000 square feet. 161 Columbia Heights, meanwhile, is smaller—about 7,500 square feet—and has seven fair-market apartments, one that is rent stabilized and two that are rent controlled. Mr. Knakal said the two properties are nearing a sale and estimated that they would trade for roughly $7.1 million and $3.5 million respectively.
Busy through the downturn in the real estate market, Mr. Knakal predicts that sales will pick up in 2012.
"Financing is plentiful and at low rates and the likelihood that capital gains rates will rise after next year will drive sellers to put properties on the market," Mr. Knakal said. "I think that 2012 will be a fantastic year."
In addition to the Brooklyn buildings he is handling for the Jehovah's Witnesses, Mr. Knakal is currently in the process of marketing a larger deal in the Bronx. 385 Gerard Avenue, a 410,000-square-foot warehouse, is on the market and could trade for as much as $45 million, Mr. Knakal said. According to Mr. Knakal, the property offers potential buyers an opportunity to convert the space to another use, such as residential, or maintain the asset as an industrial property.

Daniel Geiger, Staff Writer, is reachable at DGeiger@Observer.com and can also be followed at Twitter.com/DanGeiger79.
161 Columbia Heights
,
183 Columbia Heights
,
385 Gerard Avenue
,
50 Orange Street
,
Aliza Weinstein
,
Brooklyn Heights
,
Jehovah's Witnesses
,
Robert Knakal
,
Sugar Hill Capital Partners
,
Watchtower Bible and Tract Society of New York
,
Massey Knakal Realty Services