Too Small? Too Big? Just Right.
---
---
It may have been the kind of problem every tenant wishes it had, but for Wasserman Media Group it was a problem nonetheless.
Only a few months had elapsed since the firm had signed on at the start of the year to take roughly 7,000 square feet on the fourth floor of the midtown office tower 444 Madison Avenue, and already it was clear to Wasserman's executives that they had significantly miscalculated the company's needs.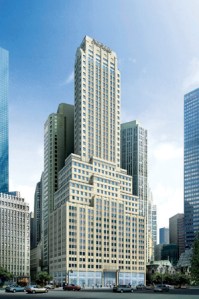 Founded and headquartered in Los Angeles, the sports marketing and talent management firm had broken into the Manhattan market about as well as any company in its business could have hoped. And for Wasserman, success meant quick growth.
In recent years it was hired to help sell the naming rights to the new stadium in the Meadowlands built in partnership by New York's two professional football teams, the Giants and Jets, what John Brody, a principal at Wasserman and head of its New York office said was one of the largest naming rights assignments ever in sports. That deal finally came to fruition over the summer when the insurance company MetLife reached an agreement to have its brand as the stadium moniker in a reputedly $400-plus million transaction that Wasserman helped arrange.
Meanwhile, relationships with two key New York clients of the firm, Pepsi Co. and American Express, were blossoming.
"It just worked out that there was a confluence of wins for us," Mr. Brody said. "We had been working on the Jets and Giants stadium project since the shovels were in the ground but we redoubled our efforts in the months leading up to the deal to get it closed with MetLife."
Even though Mr. Brody, a veteran of the New York market who worked for Major League Baseball as a marketing executive before joining Wasserman last year, may have had an inkling that the company's business might thrive in the city, the rapidity of it seemed to take both him and the firm off guard.
Needing to add personnel, Wasserman found itself almost immediately bumping against the limits of its footprint. It couldn't simply push out into more space on the fourth floor to resolve the problem either. Another tenant already occupied the floor's remaining 12,000 square feet.
Wasserman sought to use its offices at 444 Madison Avenue as efficiently as it could. Stephanie Rudnick, a spokeswoman for the firm, said that it had even reduced the amount of space it dedicated to backroom server operations by using cloud computing services that allowed it to store its data offsite and keep more of the space for employees.
"Casey Wasserman is a huge advocate and early adopter of new technology," Ms. Rudnick said, referring to the company's founder and chief executive, who operates primarily out of the firm's L.A. office.
444 Madison Avenue
,
510 Madison Avenue
,
660 Madison Avenue
,
Casey Wasserman
,
Elie Gross
,
FTN Financial
,
John Brody
,
Kerry Powers
,
MetLife
,
Patrice Meagher
,
Paul Amrich
,
Sinclair Li
,
Stephanie Rudnick
,
TD Bank
,
Wasserman Media Group
,
Westbrook Partners
,
CBRE