Mixed-Use Loft Building Trades for $20 Million in TriBeCa
---
---
Massey Knakal has sold a corner mixed-use loft building in TriBeCa for $20 million, the firm announced last week.
The landmarked 33,400-square-foot building, located at 7-9 Harrison Street, boasts 24 IMD units and a retail space.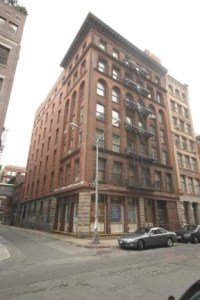 The building traded for approximately $600 per square foot.
Nick Petkoff, Massey Knakal Director of Sales, was involved in the transaction.
The retail space features 13-foot ceilings and is located steps away from The Harrison and designer and perfumist Issey Miyake's TriBeCa outpost.
Seven Harrison Street has landmark status, according to the property's profile overview on the Department of Buildings website.
Massey Knakal declined to identify the building's new owner.
The building is also near 6 Harrison Street, where online job board company BevForce just took a three-year deal to occupy 5,877 square feet of space in the former home of the New York Mercantile Exchange.
Daniel Edward Rosen, Staff Writer, is reachable at DRosen@Observer.com