Tokyo Fashion House Comes to Seventh
---
---
Onward Kashiyama! said all involved parties last Thursday, as the Japanese fashion house by that name renewed its lease at 530 Seventh Avenue for three years.
Tokyo-based Onward Kashiyama distributes a number of men's and women's apparel lines, including preppy men's clothier J. Press. The Connecticut-born retailer is perhaps best known for selling sweaters emblazoned with the logo of Skull and Bones, Yale University's most notorious fraternal organization. Onward also owns top ballet shoe makers Chacott and Freed of London, and designs custom clothes for brands such as Calvin Klein and Sonia Rykiel.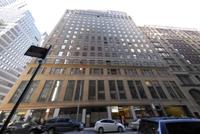 Billed as "the Fashion District's preeminent showroom property," the Savitt Partners-owned building boasts 560,000 square feet of showroom space housing fashion tenants from New Balance to Babyphat. Onward inked 7,250 square feet—the entire 19th floor—at the 30-story art deco tower. Asking rent was $55 per square foot.
Tatsuru Konno of Cushman & Wakefield represented the tenant while Savitt was repped in-house by Marc Schoen and Bob Savitt.
Guelda Voien, Writer, is reachable at GVoien@Observer.com