More Soho Retail on the Market, Broker Says
---
---
A Soho space that rents to Nike, among other high-end retailers, is on the block and expected to fetch $18 million or above, sources told The Commercial Observer today.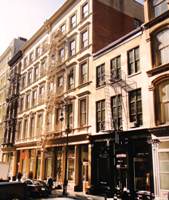 The 27,750 square foot building—25-27 Mercer Street–includes a five-story mixed-use loft building at 25 Mercer Street and the three-story 27 Mercer Street.  The buildings are separate but on one parcel of land.
The residential units can be sold off separately after acquisition, said David Schechtman, who is part of a team marketing the property at Eastern Consolidated. He added that the building has a lead bidder and several backup buyers at this time.
Tenants at the two buildings include the tennis-shoe brand perhaps best known for its ads, as well as Toto, a manufacturer of plumbing products, and Surface to Air, a French fashion retailer.
Mr. Schechtman is bullish to say the least. He said the seller decided to market the property because "the market is finally recognizing that Soho [retail] is more valuable than retail in London or Tokyo!"
The seller is Aion Partners, a New York-based real estate investment fund.
The Eastern Consolidated team selling the plot consists of CEO Peter Hauspurg as well as Mr. Schechtman, Lipa Lieberman, Marion T. Jones and Gary Meese.