Jones Lang LaSalle Chosen as Leasing Agency at 1177 Avenue of the Americas
---
---
Silverstein Properties has appointed a leasing team from the real estate services firm Jones Lang LaSalle to handle deals at 1177 Avenue of the Americas.
A lot appears to be riding on the assignment.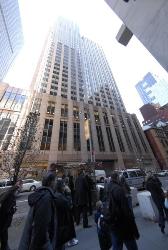 Silverstein Properties, the eponymous real estate investment and development company led by Larry Silverstein, purchased the one-million-square-foot midtown tower in partnership with the California pension fund CalSTRS at the peak of the real estate market in 2007 for $1 billion.
Brokers familiar with the property say that about a quarter of the 47-story building's space is vacant, including a large contiguous block in its base, floors two through six. Floors 34-38 are also available along with the two top floors, 46 and 47. Mr. Silverstein had previously used an in house leasing team led by his son Roger Silverstein to market and fill the space, but sources say the vacancy had festered on the market and pressure began to build for Mr. Silverstein to turn the assignment over to a third party agent. 
Asking rents in the property range from the $60s per square foot for space lower in the building to the $80s for tower floors.
The JLL (JLL) team will be led by company executives Paul Glickman, Mitti Liebersohn, Frank Doyle and Peter Riguardi, who is chief executive of the company's New York area operations. JLL, including some of the executives on the new 1177 team, are coming off another recent big agency win. According to a report in the New York Post yesterday, the brokerage firm will be replacing a CBRE leasing team at 11 Times Square, the new office skyscraper developed by SJP Properties on the corner of 42nd Street and Eighth Avenue that has had its own issues with lingering vacancy.
According to that article, Mr. Glickman and Mr. Riguardi will be leading that team with fellow JLL executives Mitch Konsker, Matt Astrachan, Jonathan Tootell and Diana Biasotti.
On the 1177 assignment, the firm had to beat out a number of top competitors, including several of the city's major brokerage firms.

Dan Geiger, Staff Writer, is reachable at Dgeiger@Observer.com
1177 Avenue of the Americas
,
CalSTRS
,
Diana Biasotti
,
frank doyle
,
Jonathan Tootell
,
Larry Silverstein
,
Matt Astrachan
,
Mitch Konsker
,
Mitti Liebersohn
,
Paul Glickman
,
Peter Riguardi
,
Roger Silverstein
,
JLL
,
Silverstein Properties