EXCLUSIVE: Construction Loan Locked Down at Minskoff's 51 Astor
---
---
The full-block office tower set to rise at 51 Astor Place has closed on a construction loan valued at between $165 and $200 million with Bank of America, a source familiar with the project told The Commercial Observer earlier this afternoon.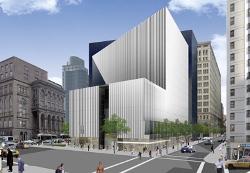 Though the Edward J. Minskoff Equities tower has not yet signed any tenants, the 400,000-square-foot asset promises to be among the most technologically advanced buildings erected in Manhattan in the past decade, said the structure's developer.
"It will surpass the Bank of America building [One Bryant Park] in some ways," said Mr. Minskoff, who declined to speak about the specifics of the construction loan.
Minskoff is betting on the area near Cooper Union and on Manhattan's need for updated office stock for a windfall of new tenants to the area. The only Class A office building in the submarket is at 610 Broadway, according to research from Cassidy Turley.
Rents at the Fumihiko Maki-designed tower will range from about $88 to $115 per square foot. The office will be completed and occupied by 2013, Mr. Minskoff said. "We're having a lot of traction with tenants," Mr. Minskoff said.
"It could be very successful certainly, but the price point makes me a little nervous," said Robert Sammons, vice president at Cassidy Turley. "That's Seagram building pricing."
But the boutique office building could do fine with just one prestigious anchor tenant, added Mr. Sammons. "In reality, if he finds one or two Facebooks or Googles than he's golden," said Mr. Sammons of Mr. Minskoff.
The developer acquired the property for close to $100 million at the end of 2008 from Cooper Union, a school that is facing a $16.5 million budget deficit and, according to The Wall Street Journal earlier this week, is seriously considering charging tuition fees.
Mr. Minskoff insisted that the university, which owns the Chrysler building and leases it to Tishman Speyer long term, would not be putting any of its real estate on the block."
A spokesperson for Cooper Union said that the school has absolutely no intention of selling any real estate assets.
Bank of America did not return calls for comment.