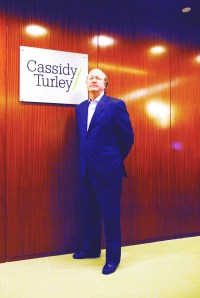 Peter Hennessy, 50, took the reins as Cassidy Turley's president of the New York tristate region a little more than 15 months ago. In that whirlwind span, he's overseen an upcoming relocation to 277 Park Avenue and a series of high-profile new hires, not to mention Brooklyn's biggest leasing deal of 2011. The former Jones Lang LaSalle and Cushman & Wakefield broker spoke with The Commercial Observer last week.
The Commercial Observer: You brokered this year's biggest deal in Brooklyn—400,000 square feet for the New York City Human Resources Administration at 470 Vanderbilt Avenue. When did that search begin, and have you worked with the agency before?
Mr. Hennessy: I started working with H.R.A. in 2002 on a variety of different things. But that transaction started probably two and a half or three years ago.
Had H.R.A. been looking for space in the vicinity of Prospect Heights in Brooklyn, or did the agency have other neighborhoods in mind across New York City?
Originally, it was for a location in Downtown Brooklyn that they were contemplating relocating to, and then that quote-unquote transaction got tabled because they wanted to look at more of an economic development model. In other words, they were looking at ways to drive economic development into different sectors of the city. When Bloomberg came into office nine years ago, one of the things he really wanted to see is how he could use city occupancy to help drive economic development in different areas.
From a geographic perspective, do city agencies have entirely different requirements than the typical corporate office tenants you represent?
The city has catchment area requirements, which means city agencies have a requirement to have different concentrations of their services in different geographic areas. You aren't going to ask somebody who lives on Staten Island to go to an H.R.A. facility in the Bronx, so you need to have them in different boroughs to allow easy access for all the residents.
The Human Resources Administration welcomes thousands of welfare recipients each day. Were landlords skeptical about your tenant?
You didn't have a lot of people reaching out dramatically for it. But what you did have was vendors and retailers in the community—whether it be the grocery stores or the mom-and-pop stores—so you had communities that were interested in this occupancy primarily because of the kind of foot traffic that it could drive to the retail locations.
The building was designed as a telecom facility in the early 2000s, and instead of high concentrations of employees it was built with air conditioning and generator capacity in mind. Will those features benefit the Human Resources Administration?
The high mechanical and electrical equipment obviously has value for a tenant moving into the facility. But the challenge you have is that when that building was originally designed, the level and number of elevators in the building was reduced because the foot traffic would be significantly less than in a normal building. So that's why when GFI [Development Company] took over from [the] Carlyle [Group], they had to go through a huge capital investment.
You were promoted as tristate president in August 2010, meaning you're about to complete your first fiscal year in that position. What have you done?
It was only 15 months ago, although it seems like about three years with everything we did and moved forward on. It's been a good year. We're coming into the tail end of the first fiscal year that I've been running the tristate region business, and all indication signs are really very positive. Revenue numbers are up north of 20 percent, profitability is up a multiple of three [in the tristate region], and we've done a lot of real positive things in terms of the organizational structure.
You hired Joseph Swingle away from Grubb & Ellis last month. That's a pretty big poach.
We brought on Joe Swingle and [Katherine] Mahon, two seasoned and experienced individuals who, having worked for some of our strongest competitors, really help me in terms of helping with the focus I have, which is three primary areas: One, strategic direction for the business; two, trying to help improve the revenue flow and helping our guys win more business every day; and three, recruiting new talent. So bringing Joe and Katie to really solidify the management leadership team for the tristate really helps.
You're relocating from your offices on 40 East 52nd Street. Why?
One of the biggest goals was moving our offices, and we'll be moving the weekend before Thanksgiving. We're moving to the top of 277 Park Avenue—the 42nd and 43rd floors. We're in about 25,000 square feet today, and we're going to about 47,000 square feet, so we're almost doubling our occupancy. But we found a great location. We found a sublease of a sublease of a sublease, and it also happened to be located in one of our longest-standing client's buildings. The Stahl Organization owns 277 Park Avenue so it was really kind of fortuitous that it was a facility that met our needs and that it was also a great landlord who we've had such a great relationship with.
Who represented Cassidy Turley in that deal? I imagine that, whoever it was, they felt a lot of pressure representing their own firm in a real estate deal.
[Managing director] Wendy Miller was spearheading that for me. It is a lot of pressure because you know you've got the worst client you're ever going to have—the most demanding client. [Laughs] No, no, no. I think it was pretty easy for her.

jsederstrom@observer.com