Google, Amazon to Set Up Brick-and-Mortar Shops in Times Square, One Broker Predicts
---
---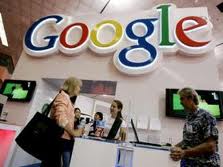 Soon Times Square may be known for its iconic signage, its assortment of apparel shops like Forever 21 and American Eagle Outfitters, and, erm, Google?!
The vaunted tourist trap may be the perfect location for the web giant to test out a "brick and mortar" entity, said David LaPierre, executive vice president of CB Richard Ellis,.
"Theoretically at some point I envision brands like Google or like Amazon… finding a way to manage and spread, I think, their customer base beyond just the internet," said Mr. LaPierre during CBRE's third-quarter Manhattan retail media breakfast Monday.
"Time Square is a classic, great place to make that be your flagship."
Whereas Amazon has its own book publishing unit and online movie studio, it would be hard to envision what Google could conceivably sell in its storefront.
Google merchandise? Android phones? A Google translation device able to decipher what all those foreign tourists are really saying?
Tim Tompkins, president of the Times Square Alliance, thinks the area is the perfect place for a web giant to try out corporeality.
"I think it's a natural place to try it to the extent that Google and Amazon (will have) a new way of connecting with their customers through experience," said Mr. Tompkins, adding that he was unaware of any actual brick-and-mortar shops in the works for either. "It's become a place where people do incredibly well in terms of retail."
Asking rent in Times Square's "Bowtie"—the stretch from 42nd to 47th streets, from Broadway to Seventh Avenue—have jumped up 27.27 percent in the past quarter, going up to $1,400-per-square-foot for ground space from $1,100, according to a CBRE report.
"There are still a lot of brands that are fighting to be in Times Square," said Mr. LaPierre. "We're probably one of the few markets that never saw a decrease whatsoever."
Soho fared worst in terms of price drop of any Manhattan neighborhood in the third quarter. The tony neighborhood—on Broadway, from Houston to Broome streets—saw a 5 percent drop in asking rents in the last quarter, decreasing to $494-per-square-foot from $520, according to CBRE.–Daniel Edward Rosen