Verizon's Real Estate Spree, 2005-2011: $871 M.
---
---
Regular columnist Michael Stoler on Verizon's major sales the last few years.
While companies like Google are hungry to own commercial real estate in New York City, its competitor Verizon continues to sell off corporate real estate here.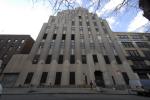 Verizon's latest transaction was the $20.025 million sale of 101,000 of the 300,000 square feet at the mixed-use switching station at 435 West 50th Street. The buyer was 435 West 50th Street LLC, an entity controlled by Michael Stern of JDS Development and Kevin Mahoney's Property Markets Group.  According to a report in Real Estate Weekly, sources said the new owners plan a residential conservision of the building's top floors. The joint venture purchased the 10th through the 16th floors, and portions of the penthouse, ground floor and lower level.
The sale of the West 50th Street property is the second by Verizon of a portion of a switching and equipment building over the past year and half.  In December 2009, an entity called 210 West 18th LLC, purchased the top 10 floors of the 19-story building at 206 West 18th Street. The new owner paid $25 million for the top floors and a portion of the ground floor of the Chelsea building, which has entrances on 18th and 17th streets near Seventh Avenue. According  to the trade, the new owner planned to convert the floors to residential condominiums.
Earlier this year, the New York University Langone Medical Center purchased 14 commercial condominiums at Verizon's building at 240 East 38th Street for $49.7 million. It plans to use the 14 floors, totaling 285,000 square feet, for short-term patient care, offices and research facilities.
On the West Side of Manhattan, the residential rental building Mercedes House, a development of Two Trees, stands on a former Verizon-owned parking lot. The 30-story building is also the home of the massive 330,000-square-foot U.S. headquarters and showroom of Mercedes Benz. In 2007, Two Trees paid $130 million for the 100,000-square-foot parking lot on 11th Avenue between 53rd and 54th streets.
A few years earlier, Verizon sold another parking lot between 11th and 12th avenues on 42nd Street to developer Joseph Moinian. The vacant lot at 553 11th Avenue was purchased for $24.6 million, next door to the Moinian Group's 478-unit Atelier condominium at 627 West 42nd Street.
One of Verizon's largest sales took place in December 2007, when a joint venture of Taconic Investment Partners and Square Mile Capital purchased a 1.05 million-square-foot condominium interest in the 32-story office building  at 375 Pearl Street for $172.5 million. This past June data center owner and developer Sabey Data Center Properties acquired the property for $120 million from M & T Bank and Taconic.
In 2005, Verizon sold two major office properties, one in downtown Brooklyn and one in downtown Manhattan. In Manhattan, Sam Zell's Equity Office Properties Trust purchased the condominium interest in Verizon's 41-story headquarters building at 1095 Avenue of the Americas. The REIT purchased nearly 80 percent of the office tower, including 30,000 square feet of retail space for a price of $505 million.
In March of the same year, developer David Bistricer signed a contract to purchase 7 Metrotech Center from Verizon, for $74 million, or approximately $114 per square foot. The property consisted of 95 and 101 Willoughby Street with a total of 650,000 square feet of office space.
mstoler@madisonrealtycapital.com
Michael Stoler is a managing director at Madison Realty Capital and president of New York Real Estate TV LLC. He writes regularly for The Commercial Observer on investment.