The Plaza District Coming Slowly Back
---
---
Robert Sammons of Cassidy Turley explains: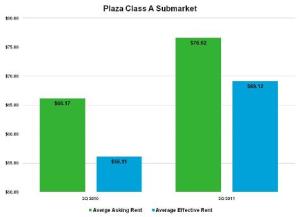 And the Plaza shall lead the way. What has historically been the submarket leader for office rents in Manhattan (and the U.S., for that matter) is once again showing its strength after a recession that hobbled it more severely than any other in midtown, due to its dependency on financial services firms. Not only has the average asking rent been climbing, but so has the effective rent (average per square foot paid over the lease term) for the 48.9 million-square-foot and 93-building Class A portion of this high-end submarket.
Comparing 2Q 2010 with 2Q 2011 shows that the average asking rent has climbed from $66.17 per square foot—incidentally, its low point during the downturn—to $76.62, a jump of 15.8 percent. Meanwhile, the effective rent for 2Q 2010 was $56.11 per square foot versus $69.12 for 2Q 2011—an even more significant climb of 23.2 percent. One year ago, effective rents were 84.8 percent of the asking rent, while today they are an impressive 90.2 percent.
Part of the increase in the effective figure has to do with less free rent and lower work allowances being offered today; but the biggest change has been in the number of transactions involving at least $100 a square foot—in 2Q 2010 there were three recorded in our database, while in 2Q 2011 that number had jumped to 13. Whether this is a blip because of pent-up demand by private equity firms and hedge funds or whether this will be a continuing trend is highly dependent on the big picture: what happens to the general U.S. and global economy over the next few months.
tacitelli@observer.com  ::   Follow on Twitter @tacitelli