Apple Officially Coming to Grand Central—We Told You So
---
---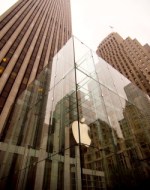 It's official, at least according to The New York Post: Apple will be opening a grand new store in Grand Central: 23,000 square feet at $800,000 a year for the first 10 years and then a lot more after that.
The long and winding road to this reportorial point started with The Observer in early February. It was back then we had what we thought was a big, big scoop:
Apple has begun a super-secret quest for a store in historic Grand Central Terminal, potentially creating a hive of buzzing techies in the glamorous Beaux Arts landmark.

Reliable sources tell The Observer that the maker of ubiquitous iGadgets–from computers to cell phones–hopes to open a store in the transportation and retail hub, though it has yet to begin the long approval process necessary for opening in a city landmark.
The world little noted, nor long remembered it. In fact, we very nearly retracted the scoop a month later based on a single tweet by a broker. We did think it was odd, or at least a hell of a thing to pull off, given the landmark status of the train station and the costs inherent in doing retail business inside there.
But then The Times story dropped last week, and The Post's this week.
And we're all booted up for fresh tech puns in headlines. Here's one: Apple Takes Shine to Grand Central.
tacitelli@observer.com    ::     Follow on Twitter @tacitelli