No Blessing for Bracha as Synagogue Hits Snag
---
---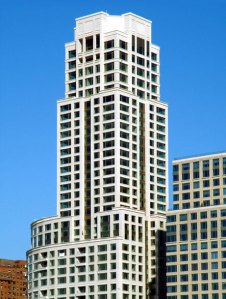 Ilan Bracha has been having a great year, as revealed in a profile in today's Observer: He continues to be one of the city's top brokers and developers and is even launching a new office for Keller Williams, the country's third-largest real estate franchise. During lunch with The Observer, the pious Bracha–he meditates and prays and mostly keeps kosher but forgoes a yarmulke–mentioned that he was building a synagogue on the West Side as a way to give back.
Well, keyn aynhoreh, because The Journal is reporting that the synagogue is afflicted. Apparently $55,753 in common charges was owed to the condominium board at The Heritage at Trump Place, a development in Riverside South. Because of the unpaid funds, the board had begun foreclosure proceedings on the commercial space Bracha and his development partner Haim Binstock bought in 2008 for $1.65 million, according to the daily. Yet in an even odder twist, when the paper contacted Binstock about the matter, his wife turned around and wrote a personal check to the board for $56,000.
The synagogue was to be the second home in New York for Rabbi Yosef Pinto, a Chasidic leader from Israel who has been a spiritual guide for Bracha for years, as well as a counselor to many assorted real estate types, as The Journal notes:
When Haim Revah, a real-estate magnate who once owned the Lipstick Building where Bernard Madoff was a tenant, brooded about purchasing the Bank One tower in Dallas two years ago, the rabbi suggested a maximum bid that proved to be the winning price: $216 million. "I don't know how the rabbi did it, but at the end of the day, it was the best price possible," Mr. Revah says.

The rabbi also tells his followers when to pass on a deal. Real-estate investor Ofer Yardeni was considering opportunities in Europe, but the rabbi wouldn't let him, telling the Israeli-born investor his home was now New York. "To knock down a wall, you pound on the same place. If you do it all over, you'll never knock it down," Mr. Yardeni recalls the rabbi telling him.
The Journal fails to note Rabbi Pinto's most famous associate, Lebron James.
It is unclear whether the check has settled the matter, but it follows the narrative that Bracha told The Observer, remarking that 2009 was not a great year, with "a lot of overhead and very little income." We tried to reach the macher-in-the-making at his new offices, but he was, as usual, booked up with appointments and interviews for the new firm. And, later, he would be busy as well, but with more good news: Bracha was being honored at a real estate investment summit. Mazel tov!