Billy Macklowe's 400 Mad Scores Six Small Victories
---
---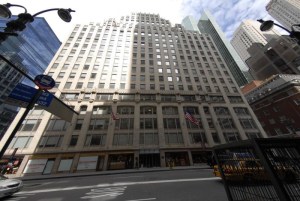 William Macklowe once won and lost big in a high-stakes real estate game, but his new firm is scoring more modest victories.
Four-hundred Madison Avenue was one of dad Harry Macklowe's long-time holdings and one of two Billy held onto when the empire the two ran fell apart. Now the son has inked four new leases and two renewals totaling nearly 20,000 square feet in the last four or five months.
"We found ourselves on a couple of units, having competing activity," said Cynthia Wasserberger, who represented the landlord along with Randy Abend, both of Jones Lang LaSalle. "I always think that's a sign of the market returning."
In July, Mr. Macklowe announced he had obtained $66.5 million in financing for 400 Mad. Despite its past financial troubles, the building has usually been around 95 percent occupied, according to Ms. Wasserberger.
"The proximity to Grand Central has always been a driver," she said. "We also feel that tenants like the fact that it straddles the Plaza District as well." Asking rents are in the low-$60s and since the market has started to recover, deals have been inked for $60 plus.
"It's a boutique building," she said. "You step off the elevator, and the doorman and security guards know your name." That's just the kind of service the reconstituted William Macklowe Company provides, where everyhing is done in-house, "soup to nuts," as Ms. Wasserberger said.
New deals include a 10-year lease for Atlantic Pacific Capital, which took 3,414 square feet, relocating from 535 Fifth Avenue. The tenant was repped by David Berke of Cushman & Wakefield. Edge Technology signed for 3,740 square feet, repped by Paul Formicelli of Jones Lang LaSalle. Equator signed a three-year lease for 2,706 square feet, represented by Oliver Lloyd of Jones Lang LaSalle. Healthcare Value signed a three-year lease for 2,700 square feet, repped by Ms. Wasserberger, Ms. Abend and Alexis Tener, all with JLL.
Radius Ventures renewed 3,865 square feet for five years, represented by Brian Steinwurtzel and Allen Gurevich of Newmark Knight Frank. Security Asset Management also renewed for 2,164 square feet.
lkusisto@observer.com