A Promise Is a Promise at 4 WTC
---
---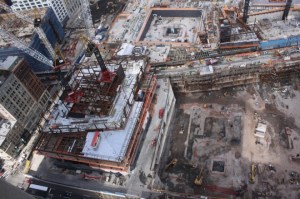 The Bloomberg administration is keeping its promise to Larry Silverstein to lease one-third of 4 World Trade Center—reluctantly, it seems.
The city will occupy 14 floors, or 582,000 square feet, in the second tower going up at the World Trade Center site, at an annual rate of $56.60 a square foot, the New York Post reported on its Web site Friday.
The city is acquiring a huge swath of prime downtown office space, even as the mayor preaches fiscal prudence and city agencies are trying to get rid of 400,000 square feet of unused office space. At 250 Broadway, where the City Council is housed, the rent is just $35.07 a square foot through 2014, according to the Post.
Two-thirds of the space at 4 WTC is now spoken for, with the Port Authority already slated to move in as well. The tower is expected to be completed in 2013, and the city's promise to lease space was instrumental in allowing construction to move forward.
One city official told the Post that the package negotiated was made primarily to facilitate the development of the troubled World Center site: "The city could have committed additional cash or capital resources, but the promise to take space was the more desireable [sic] approach for us," said the official.