Spiffy New Coworking Spot Opens in Greenpoint, Comes With Adorable Dog
---
---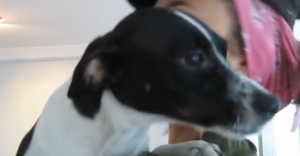 For the past six years, Sara Bacon had been working for herself, running her design firm COMMAND C. But working solo made her realize she missed other people. And she's not alone in hating to work alone.
According to new data from Deskwanted.com, the number of coworking spaces in the U.S. doubled in 2010 to about 650 locations. Worldwide nearly one coworking space opened per day.
"I love what I do, but I really miss the collaborative environment one gets while in school or while working at a firm. So a central point of the space is to build community among talented and creative people, while getting some work done," Bacon wrote on the blog for Greenpoint CoWorking, or GPCW.
GCPW opened on Monday at 240 North Henry Street. The space is open, sunny and pleasant, with hardwood floors and a wall-size blackboard. Coworkers can sit at a long desk along the window or at a long table. Permanent desk space is $360 a month for a minimum of six months; the day rate is $25.
Perks include Internet, printer, a library, free coffee, tea and snacks, and access to Bacon's dog Sushi (video here).
Apparently the opening went well. "BOO YAH. 10 peeps opening day. What," Bacon wrote on Twitter.
GPCW is having a space-warming party on Saturday afternoon.
ajeffries [at] observer.com | @adrjeffries