Charitable Nordstrom to Open in RFR's Soho Condo
---
---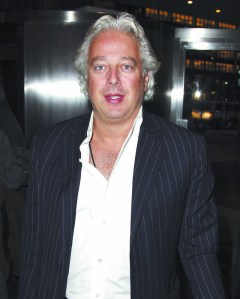 350 West Broadway
Luxury shopping disguised as charitable giving was a socialite's daydream just waiting to come true.
Now, indeed, it has, as Nordstrom will open a new 11,317-square-foot store in Soho that donates its profits to charity.
The Seattle-based retailer has scored itself a suitably aspirational location, on the first two floors of Aby Rosen (pictured) and Michael Fuch's swanky nine-story condo at 350 Broadway. The building boasts a Peter Lame sculpture installation, occasional art exhibitions and $9 million condos, which a press release deemed "seductive."
The new store is set to open next fall. "Nordstrom chose 350 West Broadway as an ideal venue," said Oliver Katcher, of landlord RFR Realty, in a statement, "because it is a one-of-a-kind property in a cutting-edge, highly trafficked neighborhood that appealed to the company for this new concept."
The store with its gleaming designer halo should at least give nearby Bloomingdale's reason to quiver. Nordstrom suffered a recession smackdown like most luxury retailers, but profits are up around 5 percent this year. Perhaps that explains why the company is in such a giving mood.
Asking rents weren't disclosed, but brokers told Crain's the landlord was asking $175 a square foot for the ground floor and $45 a square foot for the second level.
The Soho store will be the first and only one of its kind for Nordstom. But the concept has already been tried in Nolita, where high-end vintage store Use Your Head donates its profits to the homeless.
Mr. Katcher represented the landlord in-house, along with Peter Whitenack and Robert Futterman of Robert K. Futternman & Associates. The tenant was represented by Robert Cohen, also of RKF.
The Real Deal first had news of the deal.