Are the Terrorists Winning? Bomb Scare Nixes Deliveries to NYC Buildings
---
---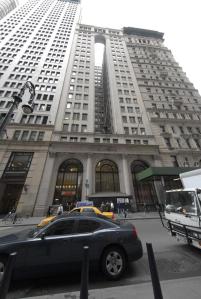 Terrorism. The name says it all. Al Qaeda and groups like it are dead set on not only causing physical harm but also exacting a much wider psychic toll. After Friday's failed bomb plot, they seem to have succeeded in an unusual way here in the city
Even though the bombs were bound for Chicago, London and Dubai, at least three of the city's buildings have put the kibosh on deliveries from Fed Ex and UPS. (Is DSW somehow still safe?) The Post is reporting that the Greatest Building Ever, 15 Central Park West, is refusing to accept packages from the two companies while the News has the news that 55 and 61 Broadway, two office buildings downtown, were turning away deliveries.
Tenants were not entirely thrilled. "It's ridiculous," attorney Seth Kaufman, who works in one of the offices, told the News. "They have to be able to make deliveries. It's New York."
Amen to that! Hopefully this is simply a temporary scare and not a permanent overreaction. Sure, the U.S.-bound planes were redirected to JFK by F-16s, but this seems like a little much.
If you've had your own unusual experiences with deliveries of late, or heard of others' problems, do let us know in the comments or at the addresses below.
UPDATE: An earlier version of this story listed one of the affected office buildings as 65 Broadway, not 55 Broadway, based on the Daily News' report. An representative for 65 Broadway called to say that was the wrong building.