The Constant Closers: Rarely a Day Off for Eastern Consolidated Duo
---
---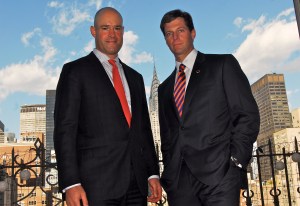 Ronald Solarz and Eric Anton's initial business dealings, they are quick to acknowledge, did not go as expected.
Operating from different sides of the real estate equation–Mr. Solarz as a broker for Eastern Consolidated, Mr. Anton as an executive for Essex Capital–the pair spearheaded what turned out to be a Quixotic series of real estate deals in the 1990s, none of which were ever actually finalized.
One after another, nearly a dozen negotiations to acquire development sites and office buildings fell apart. At 10 East 28th Street, and later at 42nd Street and Fifth Avenue, and again and again, Messrs. Solarz and Anton's attempts to forge a deal were thwarted. Still, the effort wasn't a complete wash.
"We got very close to making a deal, but we didn't make a single one," said Mr. Solarz, 48, an executive managing director at Eastern. "It's a funny thing: We weren't able to consummate a successful deal, but we ended up bonding and becoming great friends."
But a decade later, and presumably that much wiser, the partners have accrued a whopping $5 billion in sales while distinguishing themselves as seasoned pros in the financing world as well as experts in ground leases and complex air rights deals. In lofty sales deals for The Blackstone Group, Tishman Speyer and Vornado Realty, among others, the partnership has rebounded in a big way since the peak of the Great Recession last year.
In the team's most recent deal, Messrs. Solarz and Anton last week closed on a 16,000-square-foot former theater and residential building in the very heart of Soho. The building, at 55 Mercer Street, would've have been hard to come by had it been occupied but that it was delivered 100 percent vacant, said Mr. Anton, was a stroke of luck in the much-coveted neighborhood.
In that deal, the team, which includes five other colleagues, was hired by a contract vendee to flip the property, which they did in less than 30 days to a privately owned, family-run firm. The closing price, they said, reached a figure described as pre-recessionary.
"The owner sold to our client, but he didn't close–he just had the contract. He just had a piece of paper," said Mr. Anton, 41, an executive managing director who joined Eastern 12 years ago. "And we sold that piece of paper so that yesterday we closed on it."
In another recent deal, this one in September and first reported in the Wall Street Journal, the team sold a 46,200-square-foot office building at 481 Washington Street for $13 million. The seven-story Soho building, just off Spring Street, was less than half occupied and will now be repositioned as either condos or as a boutique office space for what Mr. Solarz called, "cool, artistic tenants."
"We had guys who wanted to make hotels, we had guys who wanted to do offices, we had guys who wanted to do parking within a hotel and we had other guys who wanted to knock it down," said Mr. Anton of the building ultimately purchased by an entity called 481 Washington Street LLC. "So we had users, we had rap stars and we had like every conceivable thing. So that's a good example of how you have to know all the different markets."
MR. ANTON, WHO was raised in Howard Beach, Queens, and Mr. Solarz, who grew up in Buffalo, bring their work home with them in ways that only the truly obsessed can really comprehend.
In Mr. Solarz's case, an otherwise healthy bike-riding habit somehow morphed into yet another excuse for him to seek out lucrative property deals. On a recent Sunday, to give just one example, he took a ride down to Tribeca before winding up near 23rd Street on the east side of Manhattan. Along the way, he checked out a pair of buildings he was being offered exclusively and ended, 20 miles later, in front of three development sites.
"And while I was there, you know, I'm getting creative and the endorphins are kicking around and because I'm exercising my mind becomes very clear," said Mr. Solarz, who by the end of the day pedaled 20 miles and took a gander at 10 possible deals. "So, yeah, this is how I get a lot of my best ideas."
As for Mr. Anton, a typical domestic impasse turned into a real estate windfall five years ago when he and his wife, the Internet entrepreneur Christina Norsig, struggled to expand the dimensions of their condo to make room for a baby on the way. With only a one-bedroom condo between the couple and what would soon be two children, Mr. Anton considered moving from his building at 34th and Park Avenue. When an apartment directly below him became available, he ran to the management agent's office and rented the space immediately, Mr. Anton said.
When he asked to buy the apartment, however, the owner refused, saying that he would rather sell all 11 rentals he held outright. Instead of shying away, Mr. Anton scooped up each of the units and signed a contract that allowed him to flip at once. In one day, Mr. Anton successfully closed on nine.
"So we had nine buyers and the families, nine brokers with them, nine lawyers, nine title guys. It took all day," recalled Mr. Anton, who has previously worked at Bovis and the Starrett Corporation. "I bought each buyer a bottle of Champagne and it took two hours to close each one."
None of which is to suggest that the team's focus has not been on their work-a-day weekday activities at Eastern Consolidated. In fact, last week, Messrs. Anton and Solarz alluded to–but declined to serve up–several pending transactions.
"It's such an interesting business that it keeps us excited almost every day," said Mr. Solarz. "And luckily we're doing a ton of deals right now. And we have so much momentum. Maybe half of our business is exclusive and maybe half are these kind of quiet, off-market deals that nobody ever hears about that never even show up in the press."
"Some of our best deals, we've never even announced," added Mr. Anton, who, nonetheless, couldn't resist dangling a $125 million deal currently in contract. "It's a top-secret deal. And after we close? We still won't tell you."
jsederstrom@observer.com