Why Fairway Will Take a Ripe Chunk of Upper East Side
---
---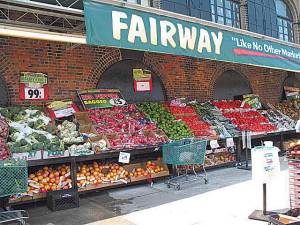 240 East 86th Street
The days of wilted lettuce and spotty apples have come to an end on the Upper East Side, as Fairway Market will open its first location east of Central Park.
The local chain recently signed a long-term lease for Barnes & Noble's former location at 240 East 86th Street, between Second and Third avenues.
The store will open in fall 2011, offering the six varieties of apples and 10 brands of olive oil to which Upper West Siders have long been accustomed. Indeed, the 45,263-square-foot store will rival in size Fairway's flagship location at Broadway and 74th Street, Fairway's partner Howard Glickberg told The New York Times.
Some Upper East Side foodies may, however, be dismayed that the local favorite beat out organic behemoth Whole Foods, which was also vying for the space, sources told Crain's in February. (Speculation about the deal has been floating about for months.)
"This densely populated neighborhood prompted an increased demand for a market and proved to be the ideal location for Fairway," said Robert Futterman, who represented the landlord on behalf of Robert K. Futterman & Associates.
"This will be the only market of its kind in the heart of the Upper East Side, and Fairway joins a growing roster of prominent retail brands that continue to improve the bustling retail corridor along East 86th Street," Mr. Futterman added.
Asking rents for the retail corridor have fallen 20 percent in the last year to $325 per square foot on average, according to the Real Estate Board of New York's spring 2010 retail report. Other stores in the immediate area include H&M, Banana Republic, Sephora and Barnes & Noble.
Along with Mr. Futterman, Ariel Schuster, Gary Alterman and Izzy Anthony, all of Robert K. Futterman, represented the landlord, Ventura in Manhattan Inc.